Blake Shelton Stands Up for Kelly Clarkson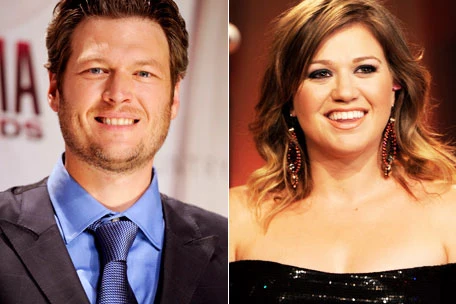 Blake Shelton would go to blows for Kelly Clarkson, literally. The 'Mr. Know It All' singer caused a stir last week when she announced her support of Texas Congressman Ron Paul for the Republican Presidential nomination.
"I love Ron Paul," Kelly wrote on her WhoSay account. "I liked him a lot during the last Republican [sic] nomination and no one gave him a chance. If he wins the nomination for the Republican party in 2012, he's got my vote. Too bad he probably won't."
After her Twitter account (@Kelly_Clarkson) was inundated with opinions opposing her position, Blake came to her defense, tweeting her, "I love you!!!! I'll listen to your view points anytime. And I really wouldn't mind throat punching someone for you either!!" To which she promptly replied, "Thanks," with a smiley face.
Later that day, Kelly took to her WhoSay account once more to address the controversy. "Man my eyes have been opened to so much hate tonight," she wrote. "If y'all ever disagree with something I say please don't feel the need to attack me. I will listen to what you say and any articles or viewpoints you have when you say it with respect. Being hateful is not a healthy way to get people to see or hear you. I was raised to respect people and their decisions and beliefs and I hope you will grant me the same decency. If you don't agree with me simply unfollow me. It's really that easy. I hope you don't because I would love the chance to hear what you have to say but if you're so blinded by hate you can't seek peace and progress then that is your unfortunate prerogative."
Although it looks like Kelly gets the last laugh, since her record sales shot up more than 440 percent in the wake of the political controversy. In fact, her latest album, 'Stronger,' went from No. 38 to No. 7 on Amazon's sales list.
In other news, Kelly spent New Year's Eve in Oklahoma with Mr. Shelton and his wife, Miranda Lambert, as well as Blake's fellow 'Voice' coach Adam Levine. See a pic of the festivities here.
Watch a Report on Kelly's Political Sales Surge