Kellie Pickler Shows Her 'Tough' Side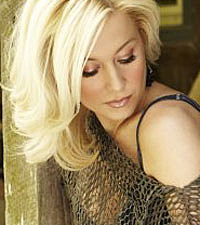 Kellie Pickler is eagerly awaiting the release of her third album, which she says will be the most personal collection of tunes she has shared with fans yet. If her first single, 'Tough,' is any indication, the 25-year-old's assessment of the new CD is quite accurate.
"People hear the word, 'tough,' they automatically go to being physically tough. The song is not about that," Kellie explains to The Boot. "It's about being emotionally tough. Going through my life, and this video, it was very therapeutic and healing, because there's parts of my life, things that have happened with my father and I that I have not addressed and I've not revisited those places. So it's just been subconsciously in the back of my head, but it's still there. I think the first part of healing with that is going back and walking through those places as an adult."
Watch Kellie's 'Tough' Video
The song, written by Leslie Satcher, was penned specifically for Kellie. "I met Leslie earlier this year," the North Carolina native recalls. "We were sitting down just getting to know each other. We had written a song together that's going to be on the record. After our write, she asked me where we were in the song-picking process, and how that was going. I said, 'It's just been really hard because I have so many different people in town. There's songwriters everywhere. I've had many people come and say, 'I wrote this song for you,' and I listen to it, and I'm thinking, 'That's what they think of me?' I was thinking, 'Let's get out of the 'Red High Heels' stage.' I was 19. That's over. I'm not kicking anyone to the curb in my red high heels anymore. I'm married. That part of my life, the teenage years, are done. I'm not a teenager anymore. It seems like everyone was trying to pitch me shoe songs or things I've already done in a way."
Kellie shared details of her difficult childhood with the tunesmith, which became the catalyst for the debut single. "I just start talking about my past, and my raising, and the things that filled me. The reason why I'm Kellie," she notes. "How I got to be this person. I just kind of did a reflection on that, told her a lot of things. I didn't know she was going to write a song about it. She went on and wrote 'Tough.' She said, 'I just felt like this is your song.' I think Leslie did a great job with pinning Kellie. I think she got it right. This song is so easy to identify with. There's more people that come from broken homes than not."
Kellie is hopeful the new tune will be as meaningful to fans as it is to her. "I hope this song empowers people that are in not so good situations," she asserts. "I hope it empowers them to change, break the cycle. You don't have to be a product of your environment, that's for sure."
Not only has the blond beauty found a great song, the new single has earned her a lifelong friend as well. "I have to say Leslie Satcher is the most incredible woman," she gushes. "I am so blessed to now have her as a friend and a part of my life. Not only is she a great songwriter — I'm glad that she's a great songwriter — but I'm so glad that she's the woman that she is. She's tough."
Kellie is balancing several shows on the road with putting the finishing touches on her upcoming album. She'll be onstage in Washington state tonight (Sept. 30), performing with LeAnn Rimes. See her concert schedule here.