Keith Urban New Album, Tour in the Works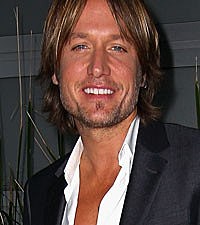 Keith Urban wrapped up his coaching duties for Australia's version of "The Voice" last week, with his team's Darren Percival taking second place in the singing competition. Now the country superstar is "chomping at the bit to get back into writing and recording mode."
In an "Urban Chat" video, which he filmed with the spectacular Sydney skyline in the background, Keith explained that while he's worked on new music throughout this year, he's "really anxious to get back into the actual studio and really start working on an album. I've got a bunch of songs and I'm really excited about getting in and recording." (Watch the video below.)
Keith confirmed that he'll be writing and recording a new album throughout the summer, and will be announcing plans for a new tour soon, with Australia on the itinerary first and then a U.S. trek next year.
"Lots of stuff coming down the pipeline," he noted, adding, "I'm jonesing to get back on stage anywhere … anywhere sometime soon."
As far as what the new album will sound like, Keith recently told Nashville's Tennessean newspaper, "My intention for the record is to start exploring the stories in my own life. There's plenty of them, and I've been through a lot of things and there's a lot more of that exploration that's happening already. I think it is taking shape a little bit. It feels like it's the first one."
Appropriately, the song heard at the end of the video is "The Next Time Around," by the Brazilian/American folk-rock band Little Joy.
Keith's Australian tour begins January 25, 2013, with two shows in Brisbane, followed by shows in Melbourne and Sydney.
Tickets for Keith's Australian tour go on sale today (June 25). Keep track of his tour schedule here.
Watch Keith's Latest 'Urban Chat' Video
Watch Our 'Day in the Life of Keith Urban' Video

#fivemin-widget-blogsmith-image-951338{display:none;} .cke_show_borders #fivemin-widget-blogsmith-image-951338, #postcontentcontainer #fivemin-widget-blogsmith-image-951338{width:570px;height:411px;display:block;}