Josh Turner, 'Punching Bag' – Sneak Preview (VIDEO)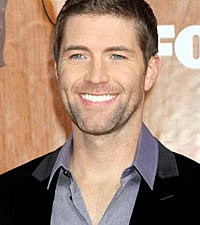 Every summer blockbuster is preceded in release with a short trailer to give you an idea of what the movie is about, so why shouldn't albums have the same? Josh Turner gives a glimpse into his latest project, Punching Bag, out June 12, in a clip that takes you behind-the-scenes of the recording process. (Watch it below.)
"The word that really sums this record up is confidence," Josh says. "I want the fans to see that I have learned exactly who I am as an artist, as a person … There's a lot of different kind of songs on this record and within each song you hear a lot of confidence. It's truly my heart, and a lot of different aspects of it."
The singer even goes so far as to say that this is his best record to date. "I'm always trying to improve upon what I've already done," he explains. "I'm always trying to beat the last record. I feel like I've done that. I feel like I've put together the best collection of songs that I can do right now."
Out of the 11 songs on the album, Josh wrote or co-wrote eight of them, and invited Marty Stuart, Iris Dement and Ricky Skaggs to appear on the project. Among the collection, which includes his current single, "Time is Love," is one upbeat diddy that the singer-songwriter felt was a little out of character.
"'Find Me a Baby' is a song I wrote with my producer Frank Rogers," Josh recalls. "It was probably one of the happiest sounding songs I've ever done. Normally, for me, there's a little bit of lonesome in there. [laughs] But there's no trace of lonesome in this song. It's all happy and sunshine and roses."
The track, which seems like it would be natural to come from the family man, includes his wife, Jennifer, and three sons — Hampton Otis, Colby Lynch and Crawford Marion — on the recording.
"Frank had the idea, 'Let's get Jennifer and the boys to come in and sing on this thing,'" he describes. "It was awesome. Being able to have my whole family on a song is something we'll treasure for a long time."
Pre-order Punching Bag here.
Watch the 'Trailer' for Josh's Punching Bag