John Corbett, 'Leaving Nothin' Behind' Is Strong Notch in Actor's Country Belt (Exclusive Interview)
Bo Derek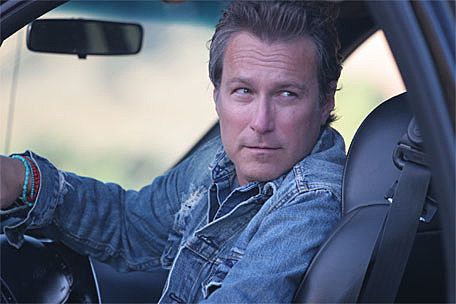 Bo Derek
With two country albums to his name and an acting resume a mile long, John Corbett would be a casting agent's dream for the ABC drama, "Nashville." But for him, that would be taking two steps back in his Music City journey.
"I wouldn't do it. They didn't ask me [laughs], but I wouldn't do it," the affable entertainer tells The Boot, lounging on a couch in his publicist's Music Row office. "I've been too close to being an actor who came to Nashville wanting to sing, with people making assumptions or judging. I had one guy -- a big guy who ran a label -- call me a carpetbagger before he even heard my music! So if I did something like ['Nashville'], I'd get compared too much to an actor trying to make it in this town to steal the pot of gold."
Putting his acting career on hold, Corbett is in town to promote his sophomore country album, Leaving Nothin' Behind, which hit online outlets today (Jan. 29). The collection finds the West Virginia native tackling songs written by mostly Texas tunesmiths, including Jon Randall Stewart, who co-produced the project and penned seven of its ten tracks. Corbett isn't defensive about the fact that his own name isn't on the album's writing credits, as he likens his own songwriting to "silly kids' rhymes," but he is confident in his ability to make a song his own. Beautiful case in point is "Name on a Stone," the song Stewart penned with his "Whiskey Lullaby" (Brad Paisley, Alison Krauss) co-writer, Bill Anderson.
"There's a lot of my dad in that song. The opening line is, 'It was just me and the preacher.' My dad died with no friends, in a nursing home," Corbett reflects. "I got weepy the first ten times I listened to it. I had such a strong reaction to it that I almost didn't cut it. But I love it so much; it's one of my favorite songs on the record."
Funbone Records
While "Name on a Stone" tugs at the heartstrings with lyrics that ring so devastatingly true for the actor-singer, he shows his fun-loving personality on songs like the foot-stompin' "Satin Sheets" and rebellious "Me and Whiskey." The album's title comes from a line in the feel-good love song, "Steal Your Heart," which sounds like it could've been on an old Pat Green album. In fact, being such a champion for the project's songwriters, Corbett is shaking his head at the fact that other, more established artists didn't snatch these songs before he did.
"I really wonder why no one in Nashville cut 'Tennessee Will'," he says of another standout, country radio-friendly track on the album. "How come I'm coming here, independently ... I just can't believe no one else in Nashville heard that song and said, 'That's a hit.' I guess I'm glad they didn't!"
It's been more than six years since Corbett made his country debut with the self-titled album that spawned infectious tunes like "Bottle of Whiskey" and "Good to Go." In promoting both the current and former projects, he has no doubt that much of the initial attention paid to the music is because of his Hollywood fame, earned through beloved roles on shows including "Sex and the City," "Northern Exposure" and "Parenthood," and in blockbuster movies such as "My Big Fat Greek Wedding."
"With my live shows, people expect to see a train wreck, a guy up there who can't sing on key and is just doing an ego thing. Or maybe they're just coming to see Aidan from 'Sex and the City,'" admits the 51-year-old. "But by the third song, they know they're in good hands. I know they come into these shows with low expectations, and I welcome that because I know I'm not going to disappoint them ... And as far as the record goes, you either like it or you don't. If you don't, I get it because there are a lot of artists I don't like! Just don't tell me. [laughs]"
As much as he laments being called an "actor trying to sing," Corbett seems to embrace the target for criticism on his back, chalking it up to a learning process that makes him a better musician. Still, he wishes people would keep their minds as open as they would if his career path had gone the opposite way.
"No one has a problem when Tim McGraw is in a movie. They love it; I love it," he says. "But when an actor comes to Nashville to play music he grew up with ... I grew up 12 miles from Brad Paisley and six blocks from the Capital Music Hall, which is the second longest running Opry house, next to the Ryman. So for a guy to tell me I'm a carpetbagger when I've been singing Merle Haggard songs since I was seven, he can kiss my ass!"