Joanna Smith Gets Tips From 'Big Brother' Luke Bryan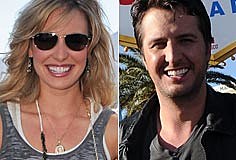 Joanna Smith has been Luke Bryan's No. 1 fan since long before he debuted in 2007 with the huge hit, 'All My Friends Say.' Her admiration actually goes way back to when they were both growing up in the 'Georgia Mud.'
"Luke's always been like a big brother," Joanna tells The Boot. "When I moved to Nashville in 2004, he introduced me to my first friends there, and I'd call him about random stuff, like, 'Luke, where's the nearest Verizon store?' And he'd be like, 'I don't have time to fool with you, little girl, but it's over here.' He's always been so sweet."
In fact, Luke's given Joanna enough advice that she's got his impression down pat. "He's like, [imitating Luke], 'Joanna, do you have any idea what you're getting yourself into? Joanna, this business is going to make you crazy. Do you know that?'" she recalls with a laugh. "That's the kind of things Luke says. 'Joanna, you need to learn to play that guitar and write songs and sit up there and play your songs. That's what you need to do.'"
While she jokes about it now, Joanna did take that last piece of advice to heart. "My daddy had always written and played guitar," she explains. "I played piano and had always been around it, but I never really did that. When I moved to Nashville, though, I really buckled down. I was like, 'I know it's in my blood to write, so I want to take a few years to hone that.' That's a huge part of my artistry now."
And she has that 'Country Man,' whom she met as a kid, to thank for it. "The connection is, of course, our families and where we're from," Joanna explains. "Luke is from Leesburg, Ga. and I grew up near Arlington, Ga., and that's a good 45 minutes apart. Luke is a good 10 years older than me; we weren't the same generation, but his extended family — his granddad, his aunts and uncles — they live where I lived, way out in the country.
"Somehow, since my dad is such a big music fan, he'd heard about Luke's band, and got to know him," she continues. "He and my dad love country music and love to fish. So growing up, Luke would come over, bring his guitar and go fishing with my daddy, play some songs and I would just tag along and be Luke's groupie. [laughs] I was 11 or 12 at the time. Anytime Luke's band, Neyami Road, was playing in the area, I would beg to go. Luke was my idol, and I had a huge crush on him."
No one can blame her for that one. Luke's currently on the road opening for Tim McGraw on his Emotional Traffic tour. The next stop is Saturday (May 7) in Columbus, Ohio. Get more info on tickets and dates here.
Joanna is also on the road, with her next appearance May 21 in Reidsville, N.C. with Josh Thompson. Get details here.
if(typeof AOLVP_cfg==='undefined')AOLVP_cfg=[];AOLVP_cfg.push({id:'AOLVP_620116725001′,'codever':0.1,'autoload':false,'autoplay':false,'displaymnads':true,'playerid':'89761511001′,'videoid':'620116725001′,'width':476,'height':357,'playertype':'inline','stillurl':'dynamic','videolink':'#','videotitle':'dynamic','videodesc':"});