Jennie Garth Reality Show to Air on CMT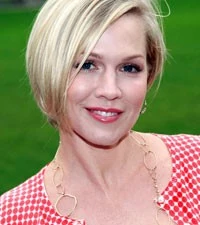 She may have shot to fame in 'Beverly Hills, 90210,' but Jennie Garth's heart is in the country. The newly single actress has teamed with CMT for 'Jennie Garth: Little Bit Country,' a reality show about life with her three daughters, as they leave L.A. for their Santa Ynez Valley, Calif., farm.
"Being out here alone with the girls is not going to be easy, but I know it's the right thing for us right now. I feel it in my heart," the 39-year-old says in an exclusive clip from the show. (Watch it below).
It was just this week that Jennie and her husband of 11 years, 'Twilight' actor Peter Facinelli, announced they are getting divorced. The show will reportedly tackle that dramatic subject, though Facinelli is not expected to appear on camera.
All three of Jennie's daughters — Luca, 14, Lola, 9, and Fiona, 5 — will appear on camera, adjusting to their new country life. But the girls don't leave Tinsel Town behind them entirely; they name their new cows 'Holly' and 'Wood'!
'Jennie Garth: Little Bit Country' premieres April 20 on CMT.
Watch an Exclusive Clip From Jennie Garth's New Show

#fivemin-widget-blogsmith-image-538885{display:none;} .cke_show_borders #fivemin-widget-blogsmith-image-538885, #postcontentcontainer #fivemin-widget-blogsmith-image-538885{width:570px;height:411px;display:block;}