Jason Aldean Brings the 'Party' Home to His Own Backyard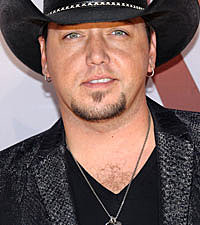 Jason Aldean will crank up the party for the hometown crowd this Friday night in Nashville for the first time ever in his seven-year career, and he's pretty pumped at the chance to show the local crowd what the rest of the country has been raving about in sellout after sellout. Jason is excited to bring his 'My Kinda Party' tour to Music City to play for his neighbors and friends, and admits that for a guy who spends most of his time rolling down the road in a tour bus, there are advantages to playing in your own backyard.
"It's rare that I get a chance to play a show and sleep in my own bed, so that's gonna be fun!" he tells The Boot. "We've never done a show here; other than playing at the Wildhorse Saloon during CMA Fest, we've never done a big, full production show here. So we were hoping it would do well, and I think it sold out in 10 minutes! That makes you feel good … people want to come see you, and it makes us want to play.
"It's good to be home," he continues. "We'll be home and have our family and friends be able to come out and check out the show, and it's gonna be a good time. And the fact that nobody here has really seen us perform like that is good — they don't know what to expect, which is what I like!"
Fans and industry members alike will no doubt be in for a high-octane performance from the Georgia native and his band, and Jason should be in great spirits for the local show, considering his recent run of awards and accolades surrounding the multi-platinum-selling smash CD, 'My Kinda Party.' He's hoping to follow up the CD with another album full of hits, but it seems fans may have to wait a bit for that new batch of songs.
"I'm done with my part of the new album," he says. "(My producer) Knox is in the studio mixing and mastering now, and then we'll release a single from my new album in the summer, and we're looking at a fourth quarter release for my new album. So a new album will be coming this year, but it's coming a little late, just because we've got an album on the charts that won't die, which is kind of a nice problem to have! So we decided to put out one more single from this album, 'Fly Over States,' and that will be it for this album."
Jason's 'My Kinda Party' album and tour is so hot, in fact, that he recently sold out an Atlanta, Georgia date for May 19 in four minutes, and a second show had to be added on May 18 in Lakewood to accommodate the flood of ticket demands for the sizzling, hot young singer with the musical Midas touch.
if(typeof AOLVP_cfg==='undefined')AOLVP_cfg=[];AOLVP_cfg.push({id:'AOLVP_1161945334001′,'codever':0.1,'autoload':false,'autoplay':false,'displaymnads':true,'playerid':'89761511001′,'videoid':'1161945334001′,'width':476,'height':357,'playertype':'inline','stillurl':'dynamic','videolink':'#','videotitle':'dynamic','videodesc':"});