Jason Aldean's Fans Follow Him Down a 'Dirt Road'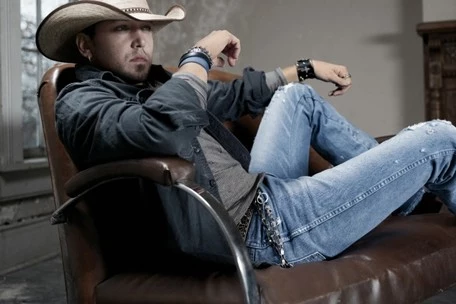 Jason Aldean took a gamble earlier this year when he headed down a road less-traveled (at least by most country artists_ and released the Colt Ford– and Brantley Gilbert-penned country/rap hybrid, 'Dirt Road Anthem.' The tune was obviously a departure from most country-radio fare yet it jetted up the country and pop charts in record time, propelled no doubt in part by his recent sizzling duet of the song on the CMT Awards with rapper Ludacris.
The ubiquitous tune has already sold nearly a million downloads, and if you think you're hearing it everywhere these days, that may be because it has also been the top-selling ringtone in all genres of music for five consecutive weeks. Since releasing his latest CD, 'My Kinda Party,' late last year, Jason is having quite a party indeed, with the platinum-certified album recently claiming the No. 1 spot on Billboard's Country Albums chart for the tenth time this year. With the best-selling country album of the year and a huge concert tour underway, you would think the superstar could relax and just revel in his massive success a bit. Instead, he's already concentrating on his next project, listening to songs and contemplating pre-production for his upcoming fifth CD. The Boot sat down with Jason to talk about his 'Don't You Wanna Stay' duet partner Kelly Clarkson's love affair with country, his feelings about critics, why he thought 'Dirt Road' would be a smash, and the "beach rats" he's raising, who occasionally show up on his bus during the summer months.
'Dirt Road Anthem' has gotten such a huge reaction for you, especially in your live shows. Are you overwhelmed by its response?
That's one of those songs that gets mixed reviews. People either love it or they hate it. I love it. I grew up listening to all kinds of music, everything from country to rock, pop, R&B and even rap, so for me, music is music and a great song is a great song. I would never do a song like that if I felt like we were doing it just to do it. We did that song because we felt like it was my kind of song. It was something that I would want to hear on a record. There are some people who have made negative comments about it, but we've had that with every single song we've released. So that's nothing that I read too much into.
On that note, do you read reviews at all? Do the critics ever get to you, or do you just take it in stride?
I read them, I'll look at them. I don't really put a lot of stock into it. I remember when my first album came out, some critics liked it and some didn't, and it went platinum. Next album came out, and some critics liked it, some didn't, and it went gold. Same thing with the last two records, and they're both platinum. To me, a critic is someone who gets paid for their opinion, and they're entitled to that opinion but I don't really put a lot of stock into their opinion. I'm going to cut the kind of records and the kind of songs that I like, and the kind of things that I enjoy doing. If critics dig it, that's fine, if they don't, that's fine. As long as the fans dig it, that's who I'm going after. I couldn't care less about critics.
'Don't You Wanna Stay,' your duet with Kelly Clarkson, went gold. Did you immediately know that song would be a monster hit?
That duet has been an amazing song for us and has been huge for my career. Getting to work with Kelly … she is probably my favorite female singer out there. Obviously, when you're bringing another artist in to sing on a song, there's a lot of things you're unsure about — how your voices are gonna blend and things like that. That's something you really don't know until you get in the studio. But once she came in and started singing on it, I knew right away that it was really good. After she came and put her magic on it, it took a great song and made it even better. As far as singing it onstage every night, I feel like it's gone really well. That song has been a big song for my career, and we felt like it was something we definitely wanted to have in the show. The only way to do that was to build something and have her on the screen. If there ever is a point where she can come out and be in the show and do it live, that's something I would love to do, but unfortunately we can't do that every night. So having her on the screen is the next best thing.
Do you think Kelly should cut a country album?
She's from right outside of Dallas, so she obviously grew up with a lot of country music and loves it, but she's carved her niche in the pop world and is very distinctive. She has a huge fan base. She's going through recording an album right now that's being delayed a little bit but is supposed to come out the end of this year. The pop scene's a little different from the country scene. It seems like every time she puts out a single or an album, it's huge for her, so I don't think it's in her plans right now. That's not to say at some point in her career she may not do it, but I don't think it's something she's pursuing at the moment.
You've been doing a lot of TV lately — the 'Ellen DeGeneres Show,' 'American Idol' — is there one performance that made you nervous?
I would say 'Idol,' just because it's the biggest show on TV. We were on the show with Kelly, who was the first winner of the show, so there were a lot of people tuning in that night to watch her return. It's live, so if you screw up, there's no fixing it. That was a little nerve-wracking but it was fun. I enjoyed it, I didn't have any panic attacks or anything. But it's a big deal there — that's a big show, and there's millions and millions of people watching, so that added a little pressure.
Do you watch the show?
It's been weird for me. I watched the first year or two solid and then I went a couple of years without watching it. Then the last few years I've gotten back into following it. I've kept up with it pretty good this year.
'The Voice' is a pretty popular show – would you be into doing something like that?
It would depend on what it is. There's a lot of things involved. It depends on who else is on the show, what it's about, and if it's something I felt like was unique and different and cool, then I would definitely be open to something like that. We've been approached about a couple of things along those lines that just weren't the right sort of thing for me. So we passed on them. I'm definitely open to the idea if the right thing came along.
You're going back into the studio to cut a new album soon. Does the process get easier at this point or is it tougher finding songs?
Any time you have a big album, there's a little pressure about your next record. Everybody's expectations are really high. But for me, the more success we've had, it's just made it a lot easier to find songs. My producer, Michael Knox, he's kind of my eyes and ears on Music Row. While I'm out on the road, he's looking for songs, and then he and I will get together and go over songs. So I have him in my corner, which is a big plus. We're just going through the process now of trying to find songs for the new record. We've found a couple that we like, and over the summer we'll go in and start the process of working on the new record.
You're on the road all summer with the tour. Will you get a little time off to take a family vacation?
Yeah, we've got about three or four weeks off over the summer while [the girls] are out of school, so we're going to take a vacation and hang out. Usually, we go to the beach. We're all beach rats. My girls love it, so that's what we're going to do. Then we're planning on taking them to Disney World later in the year.
Do your daughters go out on the road with you now that they're a little bit older?
It just depends on where we are. If we're close to Nashville and it's where I can get them back within a day or so, then they'll come out. When summertime rolls around, they come out a little more. But they're like all of us when it comes to the bus — they like it for a couple of days and then they start going stir-crazy! [laughs]
if(typeof AOLVP_cfg==='undefined')AOLVP_cfg=[];AOLVP_cfg.push({id:'AOLVP_1000724525001′,'codever':0.1,'autoload':false,'autoplay':false,'displaymnads':true,'playerid':'89761511001′,'videoid':'1000724525001′,'width':476,'height':357,'playertype':'inline','stillurl':'dynamic','videolink':'#','videotitle':'dynamic','videodesc':"});