Jake Owen Knows Irene Is No Laughing Matter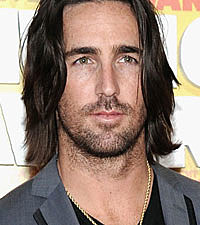 Jake Owen is about to have a really big week next week, celebrating both his 30th birthday and the release of what's predicted to be the biggest album of his career so far, 'Barefoot Blue Jean Night.' But being a Florida native, he's been a little preoccupied the past few days with a force of nature named Irene, and just what havoc this hurricane might wreak depending on where she decides to land. For Jake, hurricanes are no joking matter, having grown up around them and survived several of the crazy storms himself, and having plenty of family who still reside in a state constantly in the path of them.
"I've been texting back and forth with my mom quite a bit the past few days, just wondering if that hurricane was gonna come," Jake tells The Boot. "People don't really understand hurricanes unless you live around them. It's like how people down there in Florida don't understand tornadoes like the people in Kansas do. Until you deal with them, you don't understand. But there's nothing funny about them at all, and a lot of folks don't have the money or time to just get in their cars and evacuate. We rode out a couple of hurricanes when I was a kid just based on not really having anywhere to go. We were OK, thankfully, but it took weeks and weeks of picking up trees, branches, power lines and stuff out of the front yard that fell down. People don't realize it until they hit, just how bad they are."
Having survived several of the raging storms himself, Jake says he has faith in the meteorologists who predict where they'll land, and feels it's definitely best to heed any advance warnings given about the intense, destructive storms like Hurricane Irene.
"Those guys are pretty good at what they do as far as projecting the path of it, but still I hope that my parents and everyone are smart enough to get out if they need to. A lot of places will make a mandatory evacuation. But then the interstates get jammed up, and people are running out of gas, and gas stations don't have gas, and you're just screwed. So you just hope and pray that people are OK."
Jake's latest single, 'Barefoot Blue Jean Night,' is swirling near the top of the charts and has sold more than 800,000 downloads so far. He'll spend his birthday performing the song and some other new ones from his latest album in Dallas on August 28 at the American Airlines Arena as part of Keith Urban's Get Closer World Tour, which runs through mid-October.