10 Things You May Not Know About Jake Owen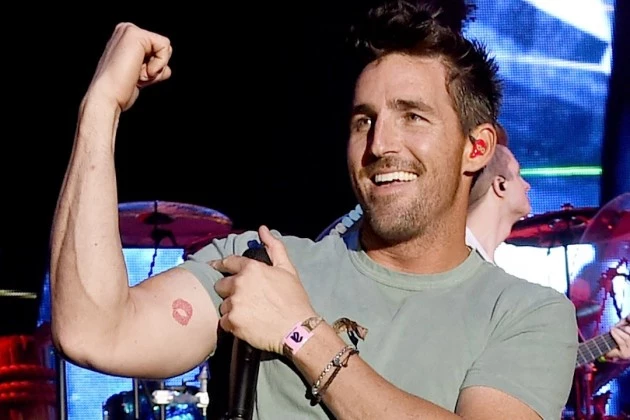 The Florida-born Jake Owen wasn't always planning on being a country singer. In fact, he was a flat-out prodigy in a certain sport — here's a hint: it involves polo shirts and caddies — and thought his future was as a professional … golfer.
Thankfully (for country fans at least), Owen had to put down the golf clubs due to an unfortunate accident and picked up the guitar instead. Find out what happened — and more fun facts about the "Alone With You" singer — in this list of things you may not know about the country star.
1. The tattoo on Owen's arm is of wife's lips. Owen, who married Lacey Buchanan on May 7, 2012, got his lady's kiss permanently inked on his arm before he even proposed.
"The lips on my upper right bicep are my girlfriend's lips," Owen told Country Countdown USA way back when. "She has the most amazing lips, and I wanted to carry them around with me everywhere I go, considering I can't carry her lips physically with me. So I decided to place them in a discreet location, such as the inside part of my bicep."
2. Owen's former constant travel companions were his dogs. Owen's trusty pup Vern retired from the road in 2011, and Merle, a dog that the singer found at a football game, took his place. But now, Merle is more likely to be at home than on the tour bus as well.
"Merle used to come everywhere with me. Now he stays home a lot, and he doesn't get to ride shotgun anymore," Owen says. "He's definitely taken a backseat to my wife and daughter, but he's still my main man."
In 2015, Owen got another dog, named Thurman Thomas. The newest pup is BFFs with Owen's daughter Pearl.
3. Owen wrote all of the songs on his debut album, Startin' With Me, and all but two of the tunes on his sophomore CD, Easy Does It. It wasn't until his third project, Barefoot Blue Jean Night, that Owen looked to other songwriters to provide tunes.
"I put aside a lot of my own songs that I had written and started recording some outside songs that I thought were better," Owen tells CMT. "That's kind of risky when it comes to your own. Most people think in order to validate yourself as an artist, you have to write your own songs. I commend the guys that do. I've done it. But I also think that you can pick great songs outside that you didn't write that can help your career."
Owen's fourth album, Days of Gold, followed suit and was comprised completely of songs written by outside songwriters.
4. Owen's real first name is Joshua. When Owen was first making waves in the country music community, Josh Turner had already scored a few hits, including his Top 20 single "Long Black Train." In an effort not to confuse the two, Owen's label suggested a different name, and they settled on Jake (even though another country music celebrity shares the name).
5. Owen almost had a song on one of Kenny Chesney's albums. When Owen first moved to Music City, he became friends with veteran producer and songwriter Jimmy Ritchey. Together, along with Ritchey's friend, songwriter Chuck Jones ("Your Love Amazes Me," "Love a Little Stronger"), the three wrote a song called "Ghost," which Chesney expressed interest in recording. While Chesney ultimately decided not to cut the song, he made sure the aspiring star knew how much he liked the tune.
"Suddenly, he starts singing it back us," Owen recalls of his first encounter with his idol. "Word for word. It didn't even seem real to me. I was stunned. He said it was a great song, but it just didn't work for the album he was working on. [He] told me I had to put it on my record. So we did!"
6. Owen is just nine credits away from a degree in English and political science. Owen was close to graduating from college with a double major when he realized that he wanted to pursue music full-time. With his parents' blessing, he dropped out of college, packed up his car and headed to Nashville instead.
7. Owen's first band's name was Yee Haw Junction. The band, formed while Owen was still in college, did mostly covers, except for two originals that Owen wrote, "It's Been a While" and "8 Second Ride," the latter of which became Owen's first gold-selling single after he got his record deal. The band performed regularly at a bar called Potbelly in Tallahassee, Fla. Owen returned to the club to film the video for his debut single, "Yee Haw."
8. Depression led Owen to a career in music. Owen might have been known as the next Tiger Woods, had he not injured his shoulder in a wakeboarding accident while in college, effectively ending his professional golf aspirations. Sidelined by his injury and dealing with depression, Owen borrowed his neighbor's guitar — and the rest is history.
"To pass the time, I just started teaching myself to play" he explains. "I had always loved music. I grew up listening to classic country, Waylon Jennings, Merle Haggard. My dad loved Vern Gosdin and Keith Whitley. So I kept going to class and started getting totally into playing guitar and teaching myself these songs."
9. Owen originally planned to be a professional golfer. The singer was 15 years old when he won his first golf tournament, which helped him score a golf scholarship to Florida State University after high school.
10. Owen has a fraternal twin brother named Jarrod. And when his brother needs help with the ladies, Owen admits that he's quick to lend a hand, even when it means talking to random strangers in the middle of the night. The country star tells Chelsea Handler that his brother often asks him to get on the phone to talk with girls he wants to impress.
"'Dude, dude, dude, just say hey to this chick real quick,'" Owen says his brother will ask. "And the girl will be like, 'I don't even give a s–t who you are, but your brother says that you're his brother or whatnot.' That's how I help Jarrod, I hook him up with some ladies."
This story was originally written by Gayle Thompson, and revised by Christina Vinson.
You Think You Know Jake Owen?
See Childhood Photos of Jake Owen + More Country Stars