Hunter Hayes' 'Somebody's Heartbreak' Lyrics Flip Usual Valentine's Day Sentiment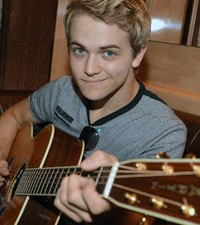 Candy companies make a fortune around Valentine's Day, thanks to those sweet little candy hearts stamped with hopeful expressions such as "Kiss Me," "I'm Yours" and "Be Mine." But Hunter Hayes found a songwriting goldmine in the latter message by turning it around and, ultimately, making the best of a bad situation. The result was the latest hit — and third single from his Grammy-nominated self-titled album — "Somebody's Heartbreak."
"There was this girl that I really liked," says Hunter. "It's funny because it was the night before Valentine's Day and I was trying to think of a cool, clever way to twist the 'be mine' thing. But at the same time I was thinking, 'Here's this girl that I like. In the back of my mind I know that I'm probably not the guys that she would want to be with. So if we were able to spend time together, she'd probably get bored hanging around with me for too long.' So it was kind of like, 'I know you're going to leave.' I knew she was interested in somebody else but … if I could just have one moment, it was exactly that. 'If you're gonna be somebody's heartbreak, I'm here. Just sayin', waving my hand, be mine.'"
The tactic must have worked because Hunter, as far as we know, remains single and looking. But by his own admission, he also has learned that songwriting is one of the best ways to express himself to the opposite sex.
"I'm such a geek," Hunter tells The Boot. "I'm so awkward and weird and shy and quiet. But I'm learning that I should write more songs for the girls that I want to make the message to, because apparently that's way better than me talking. Because that's never actually worked. [laughs] But it has taught me how to be honest."
"Somebody's Heartbreak" peaked at No. 9 on Billboard's Hot Country Songs chart and has sold more than half a million downloads thus far. The singer-songwriter-guitarist continues as opening act on Carrie Underwood's Blown Away tour. See a list of his upcoming tour dates here.
Watch Hunter Hayes' 'Somebody's Heartbreak' Video