Hunter Hayes: Carrie Underwood Tour Is a 'Total Dream'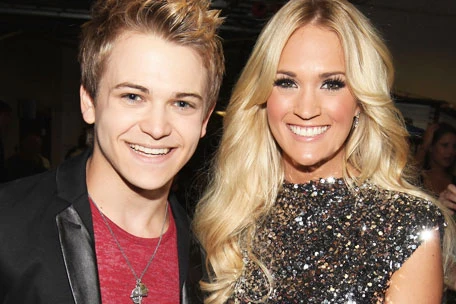 Hunter Hayes burst onto the country music scene last year with his Top 20 hit, "Storm Warning," from his self-titled debut CD, as well as a song in the film "Footloose." It was a great start for a 20-year-old musician who has been performing nearly his entire life. But even with such early success, Hunter believes his hardest work is still ahead of him.
"My biggest fear last year when we started was, 'OK, so let's hope they like me singing," Hunter tells The Boot. "Let's hope everybody likes 'Storm Warning.' Let's hope everybody likes the video. I was worried because I wanted to be on the road. I wanted to make music. This is what I wanted to do. Now I get to do this. I get to hop on the bus after this and we'll be on the road again. We'll be on the road all summer. We're doing our Most Wanted tour at a bunch of fairs and festivals, all over the world. Places we've never been to before. And then we're going out on the road with Carrie [Underwood] for her [Blown Away] tour."
The Louisiana native nabbed a spot on one of the most-anticipated tours of 2012, and is still soaking in his good fortune. "My management told me. They broke the news to me first, which is a good thing, because they signed a confidentiality agreement so they can't discuss how much I freaked out over the phone," the singer-songwriter jokes of the moment he received the invitation. "But it's so cool, because not only do we get to tour and do a couple dates, we get to do 55 dates with her and we have the direct support spot. I get to play right before she does. I get to play a long set and I have a full band in all the arenas. It's a dream. It's a total dream."
Carrie may be one of the biggest acts in music, but to Hunter she's already become someone much more personal. "She's one of the coolest people I've ever met," notes the young star. "I feel like she's kind of a big sister in the industry. You've got to love that about country music."
The multi-instrumentalist, who also scored a song on the soundtrack for the blockbuster film, "Act of Valor," played every instrument for his debut CD. While that may be almost unheard of in an industry filled with talented musicians, Hunter says for him, it was a logical decision.
"When I was young, I was apparently really dorky. I really just loved making music," he explains. "When I found songwriting, it was sort of the only way my mind figured out how to work. I had my own little recording studio at home, which I built it because I was a total tech geek … I had to make the music by myself or it would never get made; which is why we made the record that way, because that's just the way I've always worked and it made me more comfortable. I'm a very shy guy musically, so to be in the room with someone like [producer-guitarist] Dann Huff is intimidating enough. To make the record by myself allowed me to get a little more personal with it."
See a complete list of Hunter's tour dates here.
Watch Hunter Hayes' 'Wanted' Video
%VIRTUAL-globalVideoEmbed-{"videoIds":"517608637″,"width":"476″,"height":"357″}%