Gwyneth Paltrow, Holly Williams Duet in the Works?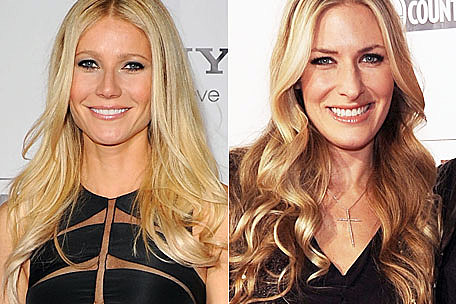 Think Gwyneth Paltrow has given up her musical dreams? Think again.
The Oscar-winning actress had several record labels pursuing her after her stellar turn as an embattled country singer in 2011's 'Country Strong,' along with her four songs on the film's soundtrack. That's not to mention her lauded musical turn on the TV sitcom 'Glee,' along with live performances on the CMA, Grammy and Academy Awards broadcasts. But we haven't heard her sing a note beyond last year's musical ventures, and rumors of a full album have since silenced.
That's not to say we won't hear Gwyneth on the radio airwaves again soon. It seems she's teamed with another blond beauty, Holly Williams, for new music. "Early morning session with the brilliant harmonies of @GwynethPaltrow," tweeted Hank Jr.'s daughter on Thursday (Feb. 16). "Even at 8:30am she sounds like a bluegrass angel #wonderwoman"
Holly's reps confirm with The Boot that the singer-songwriter is hard at work on her third studio album. But they are unable to tell us at this time whether this bluegrass-tinged tune with Gwyneth will appear on that project or on something else.
This isn't the first time Holly and Gwyneth have harmonized. The singer-songwriter played guitar and sang background vocals during the actress' very first live television performance: the 2010 CMA Awards. And Holly was actually someone Gwyneth studied for her role in 'Country Strong.'
"I was very much into Loretta Lynn and Dolly [Parton], and a lot of newer girls, too, like Miranda [Lambert], and [Hillary Scott] with Lady Antebellum, I love her voice. And Holly Williams' record, I love!" Gwyneth told The Boot of her country music education while prepping for the film. "I like that older style, soulful country. When you can hear the pain in the woman's voice, those are the women that I really connected with."
Watch Gwyneth Paltrow's 'Country Strong' Music Video
if(typeof AOLVP_cfg==='undefined')AOLVP_cfg=[];AOLVP_cfg.push({id:'AOLVP_638734313001′,'codever':0.1,'autoload':false,'autoplay':false,'displaymnads':true,'playerid':'89761511001′,'videoid':'638734313001′,'width':476,'height':357,'playertype':'inline','stillurl':'dynamic','videolink':'#','videotitle':'dynamic','videodesc':"});
Watch Holly Williams' 'Alone' Video