George Jones Remembers Old Friends on New Project He's the legendary hit maker often dubbed the greatest living country singer, and it's hard to find an artist of any genre who doesn't dream of collaborating with him. So when George Jones decided to record an album of duets, he called on some very lucky friends.
Jones' new CD, 'Burn Your Playhouse Down: The Unreleased Duets' features an eclectic mix of musicians ranging from Dolly Parton and Vince Gill to Mark Knopfler and Keith Richards, just to name a few. And an album of George Jones duets wouldn't be complete without his most famous singing partner, Tammy Wynette, who is featured on a 1977 recording that frames the CD with a duet with their daughter, Georgette.
The Boot caught up with the 77 year old legend, who just celebrated an illustrious 55 years in the recording industry. In this candid chat, Jones talks about new music, old friends and why he thinks today's country radio is more about looks than sound.


Seven songs on your new album were recorded during a star-studded recording session back in 1993. What made you decide to put together this collection 15 years later?
We did two songs with each artist, back when we did the 'Bradley Barn Sessions.' Well, we had an album in the can at the same time we did the other ones, so we decided to bring them out and update them. We decided to title it 'Burn your Playhouse Down,' which is the song that Keith Richards did with me. And incidentally, I thought he did a wonderful job playing country music! We recorded it during a terrible ice storm (in Tennessee). He flew in from California. I never dreamed that he could possibly make it.

'You Me and Time' is a duet with your daughter, Georgette, about some painful family memories. Was that a tough recording session, given the subject matter?
No, it was really wonderful. She wrote the song, and I thought it was sweet of her to write something about us, because we didn't get to communicate too often during the absence period of her growing up. I just thought it was a great idea.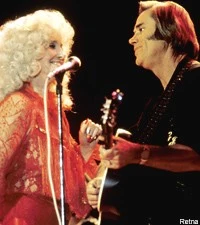 Of all the songs you recorded with Tammy, do you have a favorite?
'Golden Ring' or 'We're Gonna Hold On' -- We wrote that one together with Peanut Montgomery. We did a lot of ballads, too, that were just album songs.

'He Stopped Loving Her Today' is often referred to as the greatest country song of all time. Did you know how special it was when you first heard it?
[laughs] To be honest with you, I thought it was too sad. I took a copy of the tape with me and carried it with me almost a year before I recorded it. But it was on my mind everyday. So (my producer) Billy Sherrill said, 'Let's just go ahead and cut it anyhow.' And he bet me $100 that it would be a hit. And I said, 'Well I can't lose either way! But I don't think it will be a hit. It's too sad.' But how wrong can you be?

What's your feeling about the influx of pop artists crossing into country?
There are some fine artists out there, some good singers. The only thing I disagree with is that they don't still include some of the older artists. They play George Strait, which is great. I love his stuff. And Alan Jackson. But I don't understand why they play two artists that are pure country, traditional, but they won't play any other older artists. And the only thing that is tied to is good looks, I guess! [laughs] You've gotta be long and tall and have a cute little behind and all that stuff!
Do you ever miss the rebellious, outlaw days?
I remember the outlaw days very well. They wanted me to join in on that down in Texas. But I said, 'I've already been through that -- growing a beard and all.' And I thought they were maybe trying to be hippies, too. So I didn't want to get into that. But it did work out great, especially for three of my favorite people -- Willie Nelson, Waylon Jennings and Johnny Cash.
If Waylon and Johnny were alive today, and you and Willie took them out for a night on the town, what would we catch you doing?
Well, I'd be trying to keep up with 'em to start with! [laughs] Nah, I'd be right up there with 'em. We were all great friends, especially Waylon and Johnny. We went out and went to each other's homes a lot, and I sure do miss that.
'Burn Your Playhouse Down: The Unreleased Duets' Tracklist:

'You And Me And Time' (With Georgette Jones)
'The Window Up Above' (With Leon Russell)
'She Once Lived Here' (With Ricky Skaggs)
'Rockin' Years' (With Dolly Parton)
'Burn Your Playhouse Down' (With Keith Richards)
'Selfishness In Man' (With Vince Gill)
'Tavern Choir' (With Jim Lauderdale)
'I Always Get It Right With You' (With Shelby Lynne)
'When The Grass Grows Over Me' (With Mark Chesnutt)
'I Always Get Lucky With You' (With Mark Knopfler)
'You're Still On My Mind' (With Marty Stuart)
'Lovin' You, Lovin' Me' (With Tammy Wynette)