George Jones Concerts Canceled, Still Recuperating From Respiratory Illness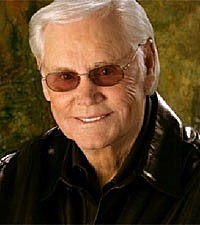 George Jones, who continues to recover from an upper respiratory infection, has been forced to cancel all concert dates through May 20, including an entire Canadian run of shows. According to a statement from his publicist, although the legendary singer is doing much better, doctors are ordering him to take more mandatory recovery time. The 80-year-old continues to rest at his Franklin, Tenn. home.
Earlier this month, George was released from the hospital after a week's stay. After being forced to postpone shows scheduled for April 20 and 21, his publicist, Kirt Webster, issued a statement saying that the country superstar "never wants to cancel a show, but has to do what the doctors tell him. He also thanks fans from the bottom of his heart for their prayers and says he looks forward to seeing them on the road soon."
Meanwhile, the Associated Press reports that a feud between the Country Music Hall of Famer and Georgette Jones Lennon, his daughter with the late Tammy Wynette, has been heating up. On Wednesday (April 25), George posted a video message on his website to thank fans for their encouragement in his recovery. He then accused Georgette of spreading lies about him via the Internet.
"I would like to apologize for my daughter Georgette and her new husband for putting so much bad things about me on the Internet and Facebook," she says in the video. "None of these things are true. They are all about money. I have gave and gave until I can no longer give. I will never let her go hungry, but I am tired of putting out, and I am not the person they claim I am."
Georgette told the AP, "All I've ever wanted is to have a relationship with my dad and for him to know how much I love him and for him to love me and want to be a part of my life. I had hoped that we could resolve this between the two of us privately and at some point he would talk to me. Unfortunately, things have escalated even further."
The concert dates that have been canceled are as follows:
April 28 Caruthersville, Mo., Lady Luck Casino
May 11 Pembroke, Ont., Pembroke Memorial Centre
May 12 Rama, Ont., Casino Rama
May 13 Kahnawake, QC, Kahnawake Sports Complex
May 15 Halifax, NS, Halifax Forum
May 16 Woodstock, NB, Carlton Civic Centre
May 18 Bouctouche, NB, Civic Centre
May 19 New Glasgow, NS, New Glasgow Stadium
May 20 Yarmouth, NS, Mariner Centre
Watch George Jones' "Choices" Video

if(typeof AOLVP_cfg==='undefined')AOLVP_cfg=[];AOLVP_cfg.push({id:'AOLVP_us_15572203001′,'codever':0.1,'autoload':false,'autoplay':false,'playerid':'61371447001′,'videoid':'15572203001′,'publisherid':1612833736,'playertype':'pageload','width':476,'height':357,'videotitle':'Test','bgcolor':"});