George Jones Admits Distaste for Country Radio
George Jones has a problem with today's country radio — namely that there's so little actual country music to be found there!
"The radio don't play traditional country music like it used to," he tells The 9513. "I listen to Alan Jackson and George Strait. They're still on the stations. And we like Sugarland, too. Most of the new artists, they understand me. We're good friends. Kenny Chesney is like my son, [along with] Dierks Bentley, and several of them. They know I love traditional music and I know what they have to do. We still all go out and have a steak together; they're good people and they do good work. It's just ain't what I like anymore."
One new artist, Jamey Johnson, has grabbed the 78-year-old's attention, but The Possum worries his radio days could be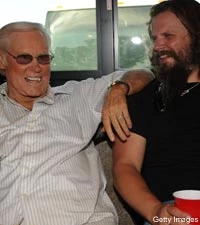 short-lived. "He's coming along pretty good, but I don't know how long they're gonna play him because he's country and real traditional. But he's had some real good success early, and that looks good for him."
George, who has collaborated with artists from all genres, including Ray Charles, James Taylor and Elvis Costello, says country is the only kind of music he really likes. "Well, I'm a traditional country artist. I always have been and I always will be. I love it so much — I always have — that when you speak of traditional country music, it's like a religion to me. I didn't get started seeking glory or seeking big dollars or being somebody big. I came into it because I loved what I was doing."
George recently released 'A Collection of My Best Recollection,' sold exclusively at Cracker Barrel stores. The album features several of his past hits, and a pair of new songs, 'I Don't Want to Know,' and 'I'm a Long Gone Daddy,' which is currently No. 24 on the charts.