Gary Allan Puts Life & Laughter Into New Music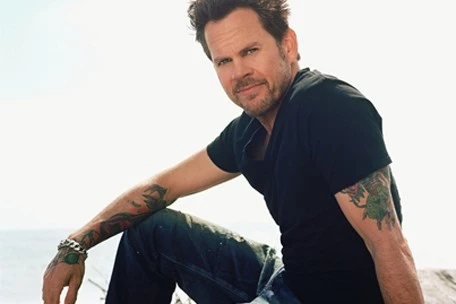 Gary Allan is a force to be reckoned with. Whether it's overcoming personal turmoil such as the vocal surgery he underwent in December, or juggling his demanding tour schedule with his duties as a single dad, the California native has proven he's here in country music to stay. From his first release to radio in 1996, 'Her Man,' to the highest debuting single of his career, last year's 'Get Off on the Pain,' Gary has proven one of the most consistent hitmakers in the business, giving fans a no-holds-barred view of his life and passions through song.
The 43-year-old platinum-selling singer now has eight studio albums to his name, and fans are chomping at the bit for the ninth. The Boot met up with Gary just before his annual fan club party in Nashville to talk about the early stages of his next project. He also reveals his beef with the industry and why he refuses to listen to his own music.
Your first album, 'Used Heart for Sale,' is about to celebrate its 15th anniversary. Nine projects later, how has your approach changed?
You get a glimpse of wherever I'm at now. I've never listened to an album once I've finished it. All I hear is what I should've done different. I beat myself up over it. Not going back and focusing on what I'm writing currently, and what my friends have, always gives it a new shape. I don't have to try too hard to make it different.
When you're writing, do you prefer to write fictitious or autobiographical songs?
If somebody else brings me a hook and it's fun to write, then I'll do that. I also still have the friends who I write with that it's like therapy. You sit and bulls— until something falls out. Then you end up writing about that emotion.
Who do you find yourself writing with the most?
Matt Warren — I wrote 'Learning How to Bend' with him. My guitar player, Jaime Hannah, we wrote 'She's So California.' I write a lot with Odie Blackmon, Jim Lauderdale and Jamie O'Hara. Rachel Proctor, she's married to my piano player, John Lancaster, so I write with those two.
Are there any songs you've written recently that you're hoping will make the next record?
My problem is that once I write them, I forget about them. I love them all when I'm doing it, so I have to step away from it a while and then go back and listen to decide if it's good.
Your albums always seem to have a great mixture of radio-friendly songs and great live tunes. Are you conscious of that when you're writing?
No. When we're recording, I try to make sure that I have two or three that can get played on radio, but it doesn't go much farther than that. You end up with very bland stuff if you're trying to make people happy.
What makes a great live song?
The more about life it is. The more cutting. If the song makes you laugh, makes you cry, pisses you off. I try to take people through a night of emotions when I'm performing.
Do you like to keep your live shows formal or do you like to interact with the crowd?
I usually just play, except when we do something like a fan club party. Then I keep it open and have an emcee out there so people can ask questions. I'll do songs I don't know. Instead of doing a 45-minute show where I don't talk, I'll just fire out songs. There they know you so well that it's more fun for them if you talk to them.
In 30 years, will you still be touring?
I love the road. That's always been my goal. I've said that to many record labels, "I want to be doing this when I'm 70." I want to make records. The road is my favorite. Some people hate the road, I love the road.
Do you ever watch the charts and follow a song's progress?
I don't watch anything. They call and tell me when it's going bad. [laughs] Other than that, I don't check. It's something you can't control, so it would just drive me bananas to sit and watch it and worry about it.
Additionally, everything about the music industry takes away from you as an artist. They're always wondering what the next thing is: "What do you have?" It's a very introverted process. That's the main reason I stay so far away from town, and I don't get in the mix of that. I write with my guys up there at my house, and I try to stay out of all of it. I try to pretend I don't live here, even though I live up the street.
What would you say if your kids told you they wanted to pursue a career in music?
They all have. I always try to tell them how hard it's going to be, but if you want to do it, I'll help. It's funny when they say it though, because they say, "Except I wouldn't want to travel like you do." They realize how hard it is on your family. I have two of them who are playing. They want to be artists. They write and sing and play. I don't dissuade it, but I don't say, "Hey, you need to be a rock star." [laughs]
You make a lot of sexiest men lists, does that make you uncomfortable or is it flattering?
I don't like to talk about it, so it's uncomfortable that way. [laughs] It's great that they're thinking of you. We'll take it. [laughs]