Garth Brooks Remembers His First Time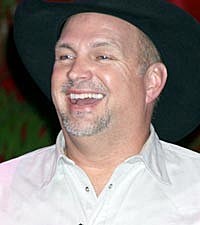 Garth Brooks is truly a living legend. Besides being named the ACM's Artist of the Decade for the 1990s, Garth has collected two Grammys, five World Music Awards, 10 People's Choice Awards, 11 CMA Awards, 16 American Music Awards, 18 ACM Awards, and 24 Billboard Music Awards.
Before he became the superstar we know and love today, Garth spent several years struggling, even quitting the business, before he finally got a record deal. Garth shares his story of the excitement he felt hearing his first single on the radio for the first time.
"I was driving in Nashville," Garth tells The Boot. "There's a segment where I-65 doglegs with I-40 for about a mile. I was on that piece of road the first time I heard 'Much Too Young.' When it was over, I switched over to the other radio station, because there were two there at the time. When I switched over, it was right in the middle of the song on that one as well. It was pretty cool!
"Thank God I was by myself because I almost killed the poor old lady that was driving next to me," Garth continues with a laugh. "I just about ran her off the road. It's a memory that you'll remember forever. I was in my red Silverado Truck that I moved to town in. It was big for me. I wanted everyone to hear it. It's everything you think it's going to be. And then it never gets old. When we were doing nights, when you go play bars and stuff, the radio people that were there say, 'OK, we're going to play it as soon as we get back to the station,' and you tune it in on the bus just to hear it. It's great. You can play the record all day but there's something special about when it comes on the radio!"