Eden's Edge Prank on Paisley Backfires … Literally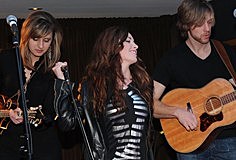 If the band members of Eden's Edge have learned anything from touring with Brad Paisley on his H20 II: Wetter and Wilder trek, the country newcomers now know if you try to punk the king of pranks, he will most likely retaliate … with more fire involved.
During Brad's set at a recent tour stop, the 'Amen' singers kidnapped their tour boss' prized West Virginia tour bus doormat, replacing it with a ransom note and an Arkansas Razorback doormat, the home state team of the talented trio. Watch Eden's Edge make the switch in the video player below.
How did the 'Remind Me' singer remind the country newcomers of his status as the proprietor of tour pranks? Brad doused the doormat with lighter fluid and brought a new meaning to the phrase, "smoking a pig." Watch his retaliation below.
Despite their disagreement over college sports teams, the tour warfare is all in good spirit. Eden's Edge continue to provide opening act entertainment for Brad's current headlining tour before joining country superstar Reba McEntire on her fall All the Women I Am tour. Click here to view Eden's Edge's entire tour schedule.