Edens Edge Member Hannah Blaylock Leaves Band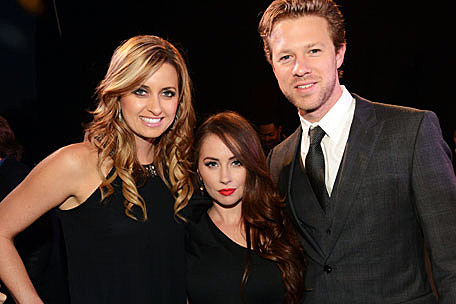 Edens Edge founding member Hannah Blaylock (center) has left the trio, according to a statement posted by Dean Berner and Cherrill Green on the band's website. According to the group's remaining members, Hannah "left upon her own accord and with much disappointment." The threesome played their last show together on Feb. 22 at the Grand Ole Opry.
"The Opry stage is a place that artists begin living the first pages of their journey and many times it is the last place they play before their earthly journey ends," Dean says. "We couldn't have asked for a better place to open this new chapter for Edens Edge than on such a gracious stage."
In September, Hannah married Justin Wakefield in Arkansas with her bandmates in attendance. She'd been with the band since its inception in 2004. All three members moved to Nashville in 2007 and took the name Edens Edge before signing with the Big Machine label group in 2010.
Dean and Cherrill are committed to move forward and remain Edens Edge. "We will never be the same as we were before, but we believe that the changes will lead to a more exciting and electrically engaging stage show," Dean admits. "We're literally living on the 'edge' right now, as we regroup, write, and the next chapter of our band is revealed. It's a crazy but exciting time, and we hope everyone will join us on the journey."
The now-duo is also writing and recording new music. "The new freedom we have in the writing process has injected creativity and life into every lyric," Cherrill explains. "It has allowed us to create songs that are true to the love for traditional sounds that brought us together but we're also taking some unconventional risks with regard to collaborations, new faces and content. We're pushing our own boundaries. I can't wait for our wonderfully loyal fans to hear what we've been working away on."
Although, it appears this new material will not be released on Big Machine, as the statement reads, "Dean & Cherrill would like to personally thank [Big Machine President and CEO] Scott Borchetta for his belief and support in Edens Edge. They're forever grateful for the time spent inside the Big Machine family."
Watch Edens Edge's 'Too Good to be True' Video