Don Williams, Keith Urban 'Imagine That' Video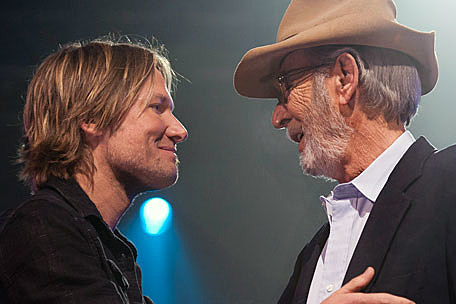 What could be better than Don Williams and Keith Urban alone in a room playing acoustic guitars? That had to be the pitch when making the video for "Imagine That," the pair's duet which appears on Don's And So it Goes record. This simplistic video captures the Aussie singer and his idol doing what they do best: creating great music.
"I don't really remember the first time I head Don Williams, because for me it feels like he's always been in our house," Keith recalls in a video promoting the album. "My dad had, I think, 13 Don Williams albums. That was the music that I heard more than any other artist in our house. … It was the voice that got me, but it was [also] the groove. It so affected the way I play guitar, and the way I write the groove in music has really come from all those Don Williams records."
Watch Don Williams and Keith Urban's "Imagine That" video below.
While the clip is primarily a performance video, the pair can be seen at various parts having intimate conversations to which you can only wish you were privy. There's one break near the middle of the song, where the pair chat about the recording process. Keith notes that they were able to cut the song in only five takes, an extraordinary feat that causes the New Zealand-born singer to make the pun, "Imagine that."
Watch Don Williams & Keith Urban's 'Imagine That' Video