Don Henley Album to Include Country Covers and Friends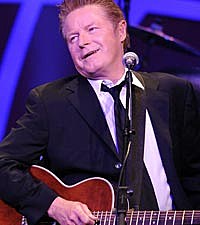 Don Henley is going back to his country roots. The rock icon is spending a lot of time in Nashville this month, reportedly making an album of country classics with producer Stan Lynch, former drummer for Tom Petty & The Heartbreakers. Reports note that the Eagles founding member will be joined on the project by several big country music stars, although no one is giving up names just yet.
"Tom Petty and the Heartbreakers is one of my favorite bands of all time," Don tells Diablo, a San Francisco-based publication. "I've known those guys for many years. Stan is one of my best friends, my son's godfather. We work together often and are currently co-producing my next album, which will be a collection of country songs."
This isn't the first time Don has collaborated with Tom Petty & the Heartbreakers. His classic 'The Boys of Summer' leads directly back to the group via Mike Campbell, the Heartbreakers' guitarist, who recorded the song as a demo.
"Mike is a versatile guitarist and his sound is very distinctive," Don says. "It's one of the best around. He's always working on – a song, a project – something. I would simply go over to his home studio and listen to the things he was putting together and if I heard something that struck my fancy, he'd put it on a cassette and I'd take it home and work on it. That's how 'The Boys of Summer' came about."
Of course, this new solo project wouldn't be Don's first connection to some of Music City's biggest stars. In 1993, Vince Gill, Alan Jackson, Tanya Tucker, Travis Tritt, Clint Black and Brooks & Dunn recorded Eagles' songs and released them on the Grammy-winning 'Common Thread' album.
The Eagles have always been known for blending country and rock, as evidenced by their 1976 album, 'Hotel California.' Don also sang harmony with Trisha Yearwood on her hit 'Walkaway Joe.'
Next on Don's wish list of recording partners? Keb Mo, Randy Newman, Alison Krauss, Rebecca Crenshaw and Merle Haggard, he tells Diablo.