Dolly Parton Songwriting a Source of Gifts and Rifts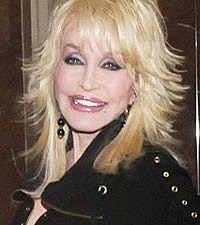 Dolly Parton is a successful businesswoman, acclaimed actress and possesses one of the music industry's most unique voices, but among all the multi-faceted entertainer's talents the one closest to her heart is songwriting.
"I'm addicted to my songwriting. That's my favorite thing I do," Dolly says. "I write something almost every day. Everything is a rhyme to me. Everything is a song, but there is nothing more sacred and more precious to me then when I can really get in that zone where it's just God and me. I really let those juices flow and I still get the same feeling from it as I did when I was young trying to do it for money, or at least hoping I made money. I never did it for money and I would still do it if I wasn't making money."
In addition to taking her songs to the tops of the charts herself, the East Tennessee native loves hearing other artists interpret her songs. "It feels great," she says, leaning forward in her chair, looking svelte in a blue leather jacket and black pants with big rings adorning each hand. "You don't expect them to sing it like you. I've heard other people say, 'Eeww! I hated his or her version of your song' and I love the way people interpret my songs. I love it. They did that tribute album a few years back and I was surprised at all the different ways that they did my songs."
The Oak Ridge Boys' upcoming album contains a new recording of "Coat of Many Colors" with Joe Bonsall singing lead. Dolly hasn't yet heard the cut, but is excited about hearing the Oaks version. When asked to name her favorite cover thus far, she admits Whitney Houston's "I Will Always Love You" holds a special place in her heart, but also singles out an Emmylou Harris hit.
"Emmylou did a song of mine called 'To Daddy.' She had a No.1 song and a lot of people don't even know I wrote that song," Dolly says. "I always thought that it was such a great record that she did. I had written that song and it was one of the biggest fights that Porter (Wagoner) and I had ever had. He had produced that on me. . . and he thought we should put it out as a single. Emmylou [was] a friend and she was down at the studio. We were playing the stuff and she turned to me and she said, 'Dolly I HAVE to have that song, and Porter said, 'Well you can't have that song because we're going to put that out on Dolly.' I said, 'She can have that song' and he said, 'She can't have that song!'
"Emmylou said, 'Well I don't mean to start no trouble, but I would really love to have that song because you could write some more.' So anyway, I fought Porter over it and I guess you know who won. Emmylou had a No. 1 record, and he never did forgive me when it became No. 1 because he had produced the one on me. Of course, they basically did it how we had done it too, so I was always really proud of it and it had a story to go along with it. As a songwriter, you give up stuff. I gave up a hit record as a singer to have a song that I had written [recorded] by a major artist at that time."
Of course, the most popular Dolly cover was Whitney's megahit, "I Will Always Love You." Dolly says she'll never forget hearing it played at the late singer's funeral. "It just killed me when they lifted her coffin up at the funeral and they started into that song," she says. "It was like you could stab me in the heart with a dagger and that's when I broke down over her. I really was — like everybody else — upset and hated it [that she died], but it was just then that I just started boo hooing. I thought, 'Those are my words and my song, and her song' and I started thinking, 'I bet that won't be the only coffin lifted up for that song to play.' I figure when I'm dead, that will probably be the same thing. It was just overwhelming to me, but I will always be grateful and thankful to her for making that song all the things that it is."
In addition to writing songs, Dolly has some other writing projects in the works this year. "I'm not touring this year, I took off to write," she says. "I'm writing my life story as a musical and probably going to do my life story as a movie, too … I have a book that's probably going to come out this fall, a positive, uplifting little book that I'll be donating most of the proceeds to The Imagination Library, my literacy program, and I'm going to be writing some children's books. I'm mainly focusing on my writing, not just my songwriting, but some of the other stuff I want to do too."
Watch Our Exclusive Dolly Parton Video

if(typeof AOLVP_cfg==='undefined')AOLVP_cfg=[];AOLVP_cfg.push({id:'AOLVP_us_1323939028001′,'codever':0.1,'autoload':false,'autoplay':false,'playerid':'61371447001′,'videoid':'1323939028001′,'publisherid':1612833736,'playertype':'pageload','width':476,'height':357,'videotitle':'Test','bgcolor':"});