Dolly Parton Finds Kindred Spirit in Lady Gaga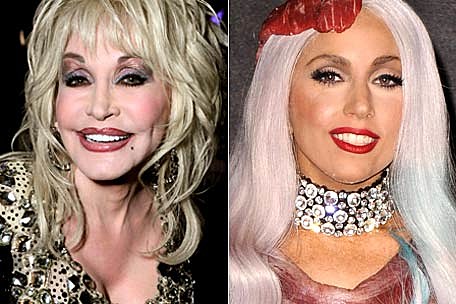 When British website, the Quietus, recently asked the legendary Dolly Parton which contemporary singers are impressing her these days, she — no surprise — mentioned Alison Krauss, citing the bluegrass icon's angelic voice, humility and musical knowledge "good enough to conduct an orchestra."
But to the reporter's surprise, she also mentioned admiration for Madonna, Beyoncé and Lady Gaga. "They're all women doing great, making their individual statements," said Dolly. "I admire more their guts than the music, necessarily, their sisterly approach."
The gutsy (and arguably rude) reporter then made the point that "Gaga always says, like you do, that she's not a great beauty. She makes a big show of her body. She also makes a big noise about being artificial." He then asked the country songbird, "What is it like to be a role model, like you both are, when you flaunt yourselves as you do?"
Dolly, who is probably used to such off-color questions being the international phenomenon that she is, didn't miss a beat.
"Well, that's what's working for her," she responded. "It's not that everybody should try and be like Lady Gaga, or me, or Madonna, or anyone. That's not the message. I think the true message there is, 'To thine own self be true.' And I'm not saying everyone should wear meat on their head. Or a wig. Or have t–s that are too big for their body! But it's all about your personal choices, your personal needs, according to your own personality. And I know for myself, I feel good dressing the way that I dress. This is how I think I look, and am, my best."
At 65 years young, Dolly certainly is at her best. She released her 41st studio album, 'Better Day,' earlier this summer to rave reviews. And now she's touring the U.S. and Europe in support of the project, even adding for the first time a little choreography to her live set.
"I never get tired of it," the touring troubadour tells The Boot. "I love getting out on stage. I stand backstage waiting to go on, and I get a little nervous and get butterflies and get pacing in my skull kinda like a race horse, but once the light hits, there's nothing else I can do but get out there and do my best. The fans have always been very accepting of me, and I love them for it."
Perhaps that is why, she tells us, "retirement is for the birds!"
"I don't feel old," she echoed in her Quietus interview. "And I don't think I look old, or as old as I probably am, because I've tried to see to that! I'm a cartoon. I don't think cartoons ever grow old."
At 65, Dolly also has similar support for the gay community that the 25-year-old 'Born This Way' singer so famously exhibits. When asked by the Quietus reporter, "With the constant rumors about your sexuality, do you have anything to say to your gay fans?," Dolly was once again unfazed.
"Well, I thank you," she answered. "I'm glad you accept me. I completely accept you and love you. I have so many gay friends, fans and loved ones. We all have gays in our families … friends and neighbors who are gay. I'm totally open and accepting.
"I always go back to God," she continued. "I look to God as He promises to be. He's there. He's everything. What I took from scripture when I was young was that we're not meant to judge. I don't care what you do behind closed doors, who you love, how you love … that's up to you. As long as you treat me right, I will treat you right. As long as you're not bringing harm to people … I'm not ashamed to talk about my life. God made me the way that I am. If God wants me to stop, he'll be the first one to tell me."