Dolly Dazzles (and Raps!) in Hollywood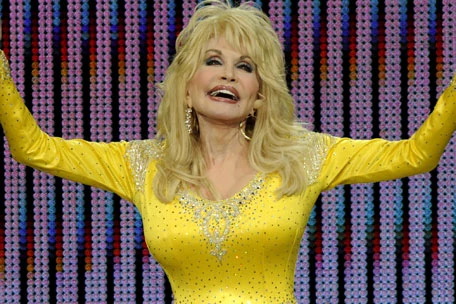 Dolly Parton turned Hollywood into Dollywood on July 22-23 as the country icon took over the legendary Hollywood Bowl for two high-energy shows.
Incredible as it seems, Dolly had never played the 90-year old Los Angeles institution in her five-decade career, but it was clearly love at first sight. While tickets for the far rafters of the open-air, 18,000-seat Bowl remained available until show time, seats close enough to see Dolly's rhinestones shimmer and shine were a hot commodity in Tinsel Town.
"I've lived here for a lot of years off and on. I was happy when I heard tickets were selling good because I need the money," Dolly said early in the evening of the first show, before going into her trademark line: "It takes a lot of money to look this cheap."
Being Hollywood, of course, there were some famous faces in the audience: actor Vince Vaughn, who has caught several Dolly shows over the years; KeKe Palmer, who stars with Dolly in the upcoming movie 'Joyful Noise'; 'American Idol' season three runner-up Diana DeGarmo, who plays Dolly's character Doralee in the touring company of '9-to-5: The Musical'; and Dolly's real-life goddaughter, Miley Cyrus. Dolly, who appeared on 'Hannah Montana' as Miley's character's aunt, sang the show's theme song 'The Best of Both Worlds' for her friend.
The Better Day World Tour, named after her just released 41st studio album, highlights tunes from that project, while spanning an astonishingly broad array of musical influences. As Dolly commented in our exclusive interview, the 2 and 1/2 -hour show works as a revue of her life and musical loves and includes the superstar both rapping and dancing: probably the only two things she can't do well, by her own admission.
The rapping comes as part of a segment that highlights the forthcoming 'Joyful Noise,' which also stars Queen Latifah. Dolly humorously raps about both celebrities' large, ahem, "assets." The dancing occurs during her potent cover of Ike and Tina Turner's classic 'River Deep, Mountain High.' "Thanks for being tolerant," Dolly laughed breathlessly after her best, if somewhat stilted, shimmying Tina Turner imitation.
The concert also included a segment during which Dolly turned such rock numbers as the Beatles' 'Help,' Collective Soul's 'Shine,' and even Led Zeppelin's 'Stairway to Heaven' into Southern gospel/bluegrass treasures (She recorded 'Stairway to Heaven,' which she said is her husband's favorite song, for 2002's 'Halos & Horns' and 'Shine' on 2001's 'Little Sparrow').
While the Hollywood Bowl show offered something from virtually every era of Dolly's vaunted career, the most stirring moments were often the quietest, such as when she sang the always-touching 'Coat of Many Colors,' telling the audience, "We should all be proud to be who we are." The most breathtaking moment came during a largely a cappella version of 'Little Sparrow,' the haunting, sad, Celtic-influenced tale of love gone wrong, that hushed the audience at the Bowl so that every gorgeous, heartbreaking nuance in Dolly's crystalline voice could be heard up into the very last row.