Dierks Bentley's New Album Won't Be Rushed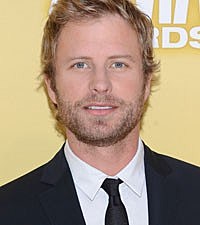 Dierks Bentley is one of country music's true road warriors. He's had a busy year in 2012 and is winding down this month with shows in Minnesota, Mississippi and Louisiana before re-emerging next year with Miranda Lambert on the Locked & Reloaded Tour.
"I love Miranda! I've been a huge fan of hers from the very beginning," Dierks tells The Boot.
The two have toured together before and the "Tip It on Back" singer is looking forward to their next outing. "We've had some great times out on the road in the past and I get a chance to go back and relive those tours again with a tour now. It's really going to be fun."
The trek kicks off January 17 and Miranda has promised a tour of "epic badassery." Besides making great music, Dierks is looking forward to the camaraderie. "Our crews get along so well," he says. "Our bands get a long so well. And like I said, I'm just one of her biggest fans. It's going to be some big shows."
In addition to gearing up for the new tour, Dierks has been busy writing songs for his next album. "I'm working on it through the beginning of next year," he says. "I'm not going to rush it. This record will be special. Home was about a year and a half worth of writing and recording for me. The plan for this record is to really hit it hard in October, November, December and January as far as the writing goes, and I hope to get in the studio in February or March."
In the meantime, fans are still enjoying the Arizona native's current album, Home, which was released last February. The latest single, "Tip It On Back" climbs from No. 34 to No. 27 on the Billboard Hot Country Songs chart this week. Watch Dierks' video for the song below.
Watch Dierks Bentley's 'Tip It on Back' Video