Dierks Bentley Goes to Battle With Navy Seals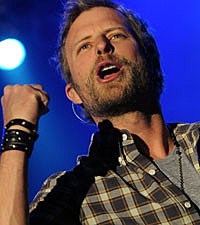 Dierks Bentley has no fear. The singer-songwriter and his crew on the Country & Cold Cans tour took on a group of unidentified Navy Seals during a recent paintball showdown, and the entire escapade was caught on film. (Watch below.)
"We're about go get real and play some paintball, having a great day in Virginia," he introduces the clip. "Paintball, cold beer and country music: it's going to be a great day … Watch out."
He's not kidding, either. Both sides walked away with their share of pink battle wounds.
This isn't the first time Dierks has brought a smile to the face of servicemen. In February, he appeared on "The Ellen DeGeneres Show," where he surprised a military family with a check for $50,000. After losing his finger while on active duty, Sgt. Chad Sparks and his wife had to sell off the majority of their belongings in order to support their 1-year-old daughter.
Get a full list of cities and dates on Dierks' Country and Cold Cans tour here.
Watch Dierks and Friends Take On Navy Seals

Dierks Talks About "Home"
#fivemin-widget-blogsmith-image-792770{display:none;} .cke_show_borders #fivemin-widget-blogsmith-image-792770, #postcontentcontainer #fivemin-widget-blogsmith-image-792770{width:570px;height:411px;display:block;}

try{document.getElementById("fivemin-widget-blogsmith-image-792770″).style.display="none";}catch(e){}