Dierks Bentley Keeps the Music Playing in New York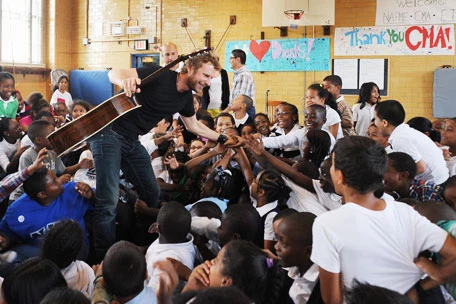 Dierks Bentley was in New York City this week, helping promote not just the country genre but all music. The "Tip It on Back" singer performed at Manhattan's famed Joe's Pub, in what has become a legendary traveling show, the CMA Songwriter Series, alongside fellow tunesmiths Jim Beavers, Jaren Johnston and host Bob DiPiero. He also paid a visit to P.S. 103, the Hector Fontanez School, which was the benefactor of $20,000 worth of musical equipment, thanks to CMA's Keep the Music Playing program.
"CMA's Keep the Music Playing does so much to enable the future of kids who might not have a hands-on experience with music otherwise," says Dierks (quote via Music News Nashville). "I was honored that they asked me to be their ambassador for the day on behalf of all the Country Music artists who donate their time each year to help this cause. They've made a huge dent in the music needs in Nashville, so it was really cool to help expand their mission to one of Country Music's top markets like New York City."
The Arizona native spoke with the school's fourth graders and viewed two music rooms that were equipped with new instruments, thanks to the CMA's large donation.
The Keep the Music Playing program partners with Education Through Music to help provide children with quality music education through the school system. "Our program serves many communities across the U.S.," says Pete Pauliks, Program Director for ETM . "We applaud Dierks Bentley and all artists who step up to talk about the importance of supporting music education in our schools."
Dierks, who has two young daughters, has a special place in his heart for children's charities. He's now gearing up for his seventh annual Miles & Music for Kids celebrity motorcycle ride on Oct. 14.
"I really want to blow Miles & Music out this year and make it bigger than ever," the 37-year-old singer explains. "We've had the chance to help a lot of communities across the country, but the heart and soul of this event is in downtown Nashville with Children's Hospital at Vanderbilt and the artists and friends who come out and help us raise money. It's my favorite thing we do all year."
All proceeds from the event benefit Monroe Carell Jr. Children's Hospital at Vanderbilt, a Children's Miracle Network Hospital. Tickets for the star-studded event, which will include performances by Sheryl Crow, Chris Young, Brantley Gilbert, Cadillac Black and Craig Campbell, are on sale now and can be purchased here.

Watch Our Day in the Life of Dierks Bentley Video
#fivemin-widget-blogsmith-image-586047{display:none;} .cke_show_borders #fivemin-widget-blogsmith-image-586047, #postcontentcontainer #fivemin-widget-blogsmith-image-586047{width:475px;height:351px;display:block;}

try{document.getElementById("fivemin-widget-blogsmith-image-586047″).style.display="none";}catch(e){}
Watch Dierks' Video for "5-1-5-0″