David Nail, 'The Sound of a Million Dreams' Is Gift of 'Gratitude'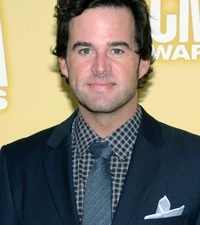 This holiday season, Operation Gratitude is sending dreams — a million dreams to be exact — to American soldiers serving overseas. Part of the proceeds from specially-marked bottles of Liberty Creek Vineyards wine are helping to fund care packages sent to military personnel abroad, and among each box full of goodies is a copy of David Nail's The Sound of a Million Dreams album. The "Let it Rain" singer has learned first-hand how his songs, which often reflect his own experiences, can also resonate with someone fighting for our freedom.
"I remember being on this plane and sitting next to this guy — I had an idea he was a solider but he wasn't in uniform — and we're talking back and forth, and as far as I knew he had no idea who I was," David tells The Boot. "Then, about three-fourths of the way into the conversation, out of nowhere he goes, 'Me and four or five of the guys, when we're overseas and we're off duty, we'll sit around one of the trucks and listen to 'Turning Home,' and we'll close our eyes and we're back in our home towns.' That hit me like a pile of bricks and I thought, 'I've sang that song hundreds and hundreds of times, and I've never looked at it from that angle.'"
It was that experience that inspired the country singer to work with Liberty Creek's Tunes for Troops campaign, which is part of Operation Gratitude. "That's how I relate to this whole ordeal. I remember when 'Turning Home' had come out. It was such a personal song; it was really reflective for me. I'd been in Nashville eight or nine years and had come full circle for a kid who left my hometown with a lot of animosity. As I got older, I began to lean more and more on the values I learned back there. Selfishly, that album was more for me."
Don't be surprised if you find the Missouri native purchasing one of those Liberty Creek bottles himself. "I love drinking wine," David admits. "I'm still very green on the whole thing, though. I was 27 years old when I went to a wine event in Nashville — I was actually a fill-in, it was supposed to be Billy Currington and I was the guy that the record label could call with late notice. I had never had wine in my life! The thought of drinking something room temperature was not that appealing. I sat next to this gentleman also from Missouri and we started talking, and I admitted that I didn't know anything about wine. He chuckled and said, 'When I was your age, I didn't know anything about wine either.' After that, I just became fascinated with it, and I still don't claim to know much but I enjoy going to the wine store and taking a chance on different bottles."
David is currently on the road with Alan Jackson, with their next stop tonight (Nov. 8) in Des Moines, Iowa. Find more tour dates here.
Watch David Perform 'The Sound of a Million Dreams'