David Nail Hopes 'Rain' Brings Brighter Tomorrow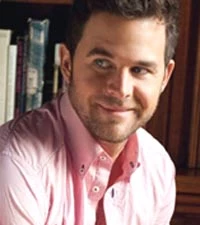 David Nail just earned his first-ever No. 1 hit, with the single 'Let It Rain,' and he makes it clear he is enjoying every minute of his success.
"There have been a lot of times over the course of my career that it didn't look like I'd be able to make a record, much less have two out and get to travel the country and tour with people," David tells Ladies Home Journal. "My short-term and long-term goals are always one in the same. I hope to do something today that allows me a tomorrow. I hope to do something this year that allows me another year. I do not take things for granted."
The 32-year-old says he hopes fans can see how he has evolved as an artist with his recently-released CD, 'The Sound Of a Million Dreams.' "I really have tried to trust my gut and trust my instincts," he explains. "I feel like I have a fairly good ear for music and I think people have grown to expect a certain kind of music from me — not that I want to stay in that place, by any means. I always want to grow. I think with this record that we kind of said, 'Okay, here's a little bit of the old record, but we want to kinda pique your curiosity even more so.'"
The Missouri native admits that now that he is enjoying wedded bliss with his wife, Catherine, he worried he wouldn't be able to find enough emotional anguish to write any compelling tunes.
"Prior to getting married, most of my relationships ended sort of sour," David tells The Boot. I was never short of material to dive back into. Now I'm happily married and in a real positive place, and when it came time to start writing for [my upcoming album], I was like, "Man, I don't have any miserable moments to pull from now. I think I tapped that well dry."
David will spend much of the next few months on the road supporting his latest CD. See his complete schedule here.
if(typeof AOLVP_cfg==='undefined')AOLVP_cfg=[];AOLVP_cfg.push({id:'AOLVP_897750278001′,'codever':0.1,'autoload':false,'autoplay':false,'displaymnads':true,'playerid':'89761511001′,'videoid':'897750278001′,'width':476,'height':357,'playertype':'inline','stillurl':'dynamic','videolink':'#','videotitle':'dynamic','videodesc':"});