Lady Antebellum's Dave Haywood Is Engaged!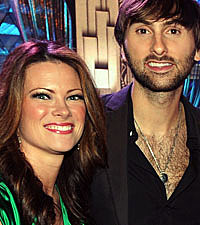 A big congratulations to Lady Antebellum's Dave Haywood and Warner Music Nashville exec Kelli Cashiola, who is sporting an early Christmas present on her left hand today! Lady's A's publicist confirms to The Boot that Dave popped the question Monday night (Dec. 19) in Christmas lights that spelled out "Will you marry me?" outside Kelli's Nashville home, which he'd decorated as a winter wonderland for his bride-to-be. Kelli, a Texas native who has worked in marketing for the likes of Blake Shelton and Faith Hill, said, of course, "yes!"
Kelli and Dave have been friends for more than five years, with their relationship turning romantic earlier this year. "I feel so lucky that our long friendship has grown into this relationship," Dave told People last month. "We are totally comfortable and ourselves with each other."
There's no word yet on a wedding date.
Now, all three Lady A members are officially off the market. Charles Kelley tied the knot back in 2009, marrying music publicist Cassie McConnell in a beachside ceremony. Hillary Scott is engaged to drummer Chris Tyrell, who proposed this past July. Their wedding date is not yet known.
The superstar country trio are now on a short holiday break from their Own the Night tour, the namesake of their platinum-selling, Grammy-nominated third studio album. They'll resume the trek Jan. 27 in Tulsa, Okla. See Lady Antebellum's full concert schedule here.
if(typeof AOLVP_cfg==='undefined')AOLVP_cfg=[];AOLVP_cfg.push({id:'AOLVP_us_1155954324001′,'codever':0.1,'autoload':false,'autoplay':false,'playerid':'61371447001′,'videoid':'1155954324001′,'publisherid':1612833736,'playertype':'pageload','width':476,'height':357,'videotitle':'Test','bgcolor':"});