Darius Rucker, Colt Ford + More Hit the Links for a Great Cause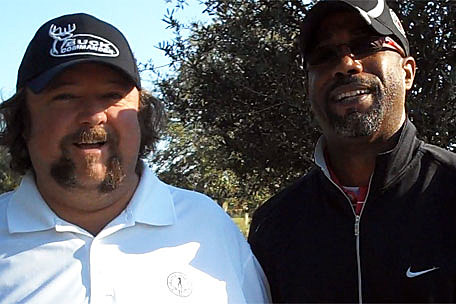 Darius Rucker called on Colt Ford for a few golf tips while the two were playing in the Carolina Studios Pro-Am, a part of the Nationwide Pro-Am Tour Championship event at Ralston Creek Golf Course on Daniel Island, South Carolina on Tuesday (Oct. 26).
The Boot caught Darius and Colt just before they headed out to the links to tee off for the tournament. "He's good, I'm not!" Darius lamented, pointing at buddy Colt.
"No, I'm not anymore," Colt argued, sending the compliment back (albeit backhanded) by joking, "He plays all the time. I work all the time! If I get as famous as Darius is, then I can play more golf. [laughs] That's my goal in life: to become as famous as Darius is, so I can play more golf."
Darius and Colt played alongside a number of other celebrity golfers including Pat Green, actor Bill Murray, alt-rocker Edwin McCain, Shinedown member Eric Bass, jazz great Branford Marsalis and southern rocker Patrick Davis, along with former NFL stars Ken Harvey and Corey Miller, and former MLB first baseman Justin Smoak.
Musicians and players came together for a jam after the tournament, with everyone having a great time performing with each other throughout the evening. The crowd was more than ready when Darius' Hootie & the Blowfish partner Mark Bryan took the stage to get the evening underway. Musical pairings throughout the night included Darius and Branford, Pat and Patrick, and Hootie & the Blowfish with Mike Wilson. The crowd was treated to a rare reunion by Hootie & the Blowfish, who performed their pop classic, 'Only Want to Be With You.' The grand finale featured Mark Bryan and the band singing 'The Boys Are Back in Town,' a Thin Lizzy tune that he announced he has just recorded.
The winning team was headed by Heisman trophy winner George Rogers, who after the University of South Carolina played for the New Orleans Saints and the Washington Redskins. The day-long event benefited Mark Bryan's Carolina Studios, a non-profit organization that provides an after-school and summer media arts program for children. Specifically, funds were going toward a new mobile studio that travels to neighborhoods in Charleston to give kids a chance to write and record original music.