Danny Gokey to Open Sophia's Heart Facility in Nashville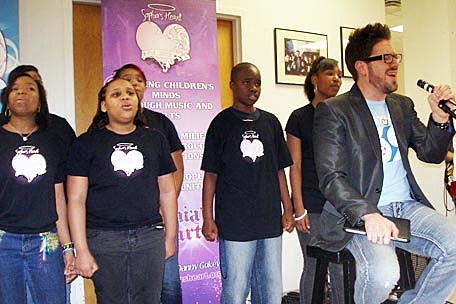 Vernell Hackett
Danny Gokey could hardly contain his excitement as he took guests on a whirlwind tour of the new Sophia's Heart facility in Nashville on Tuesday (February 2). The 77,000-square foot building will be the base for his Compassion Nashville project.
"We just put our first homeless family here this week," Danny told The Boot. "Our goal is to not just provide them housing but give them programs that help them to return as a viable part of the community."
Among the programs for adults that Sophia's Heart will offer are GED tutoring and life skills, including financial training and how to approach finding a job. The facility will also offer a variety of after-school music and arts programs for children from the surrounding community, including contemporary dance, audio & video recording, engineering classes, fashion design and choir.
"Our vision at Sophia's Heart includes programs to house and restore the lives of the economically challenged and families that have been displaced from their homes due to unfortunate circumstances," the 'American Idol' alum explained as he walked through the numerous rooms that have already been earmarked as the dance studio, art and design center and studio area. "This might include children and families who have been touched by poverty, sickness, disease, broken families and broken dreams.
"We want to give people hope when they come to be here with us," Danny continued. "The most important thing we can do is restore their dream and give them hope for their future."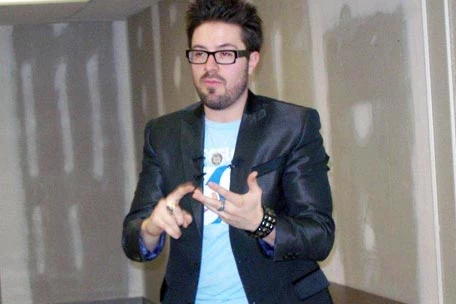 Vernell Hackett
The facility has temporary housing for 40 families, and a kitchen that can prepare up to 300 meals a day. The design of the building allows it to wrap around a courtyard where adults can go to relax or children can play. There is room for the administration offices, as well as a recreation room for families to watch television and play. "I was in here the other day, and there were toys all over the floor and I loved it," Danny said with a huge smile as he showed off the room. "We still plan to add a coat of paint and make it brighter and more cheerful in here."Danny says he loves the fact that part of the focus is on children. "There are 4,000 homeless people in Nashville, and 2,200 of them are kids," he says. "While they are staying here they will take part in all of the programs that we are offering to the children in the neighborhood. We want to have a beautiful facility for the people we help here."
Danny is not just the person spearheading Sophia's Heart; he's hands-on. The singer and a group of his friends have actually been working in the facility to get it ready for its February 21 opening, but there is still a lot of painting and caulking to be done.
"We were here stripping wallpaper and pulling down wallboard," he said proudly "There's a lot of work to be done here before we are open, but we have a lot of people who understand the dream and who are working to make it a reality."
Danny's peers may not be helping him paint and lay down flooring, but he will be calling on them once the facility is open.
"There are songwriters, musicians, producers and engineers who I know can come out and speak to the classes for the young people," he said. "I know in a city like Nashville, we will have so many people we can pull from to make these classes exciting and interesting for the kids."
Vernell Hackett
The Sophia's Heart Nashville Choir has already been performing with Danny at various shows, and has an upcoming appearance scheduled with him on the Grand Ole Opry. This group of young people performed with the singer on Tuesday at the luncheon to showcase the new building.
Sophia's Heart Foundation was founded by Danny in honor of his wife, Sophia, who passed away in July of 2008 from complications from routine surgery for congenital heart disease. He founded the organization after receiving a life insurance check when Sophia died.
"I didn't want it, I thought they were trying to put a value on her life," he explained. "I was angry at the world and at God. So I tried to figure out what I could do with that money, which wasn't a lot, and I decided to start Sophia's Heart. My wife may have had problems with her heart, but she had the most beautiful heart you've ever seen."
Danny was the third place finalist on the eighth season (2008) of 'American Idol.' He auditioned for the show just four weeks after his wife died, and says that is one of the hardest things he had ever done. "She had encouraged me to audition and she was supportive of my music, so I felt that it was what she would have wanted me to do," Danny said. "Sophia's Heart honors her and her love and dedication to helping people."