Country Newcomers, Established Stars Show Off at Big Machine's CRS 2016 Luncheon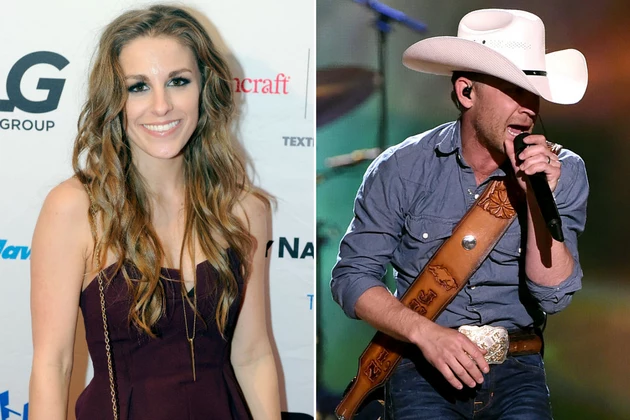 Big Machine Label Group hosted their annual CRS luncheon on Wednesday (Feb. 10). With Nashville's Charles Esten as the event's emcee, the lunch was filled with performances from some of the label's talented stars.
Newcomer Tara Thompson kicked off the show with a few songs, complete with a full (and rocking!) band; she included a sassy song, "Jail," and her current single, "Someone to Take Your Place," in her set. The rising star is currently crossing the country with Jennifer Nettles, Brandy Clark and Lindsay Ell, as part of the Next Women of Country Tour.
Tucker Beathard followed Thompson, playing an acoustic set that included his current single, "Rock On." Beathard, the son of hit songwriter Casey Beathard and a former football and baseball player, also shared his surprising path to a career in country music with the audience.
"I received a baseball scholarship and signed there, actually. But, after I graduated high school, the day before I was supposed to report to school and play baseball, I called the coach and said, 'Thanks, but I'm not coming. I'm going to try and do music,'" Beathard recalled to the crowd. "He thought I was crazy and I thought I was crazy."
Justin Moore's performance featured his full band and songs such as "Point at You," "If Heaven Wasn't So Far Away" (which earned him the only standing ovation of the entire show) and his current single, "You Look Like I Need a Drink."
"Thank you so much for what you do for us, and have done for us for a number of years," Moore told the room full of radio programmers, broadcasters and journalists. "You guys are the outlet for all of the things we breathe and sweat and bleed into our music … One of the coolest things about having the opportunity to play music for a living is to be able to touch people's lives in a positive way with our music."
During his turn at the mic, Alabama native Drake White played an acoustic version of "Makin' Me Look Good Again."
"God puts these people in your life that make you look better than you actually are," White shared of the inspiration for the tune. " … I'm so blessed to have those people around me who make me better, because Lord knows I'm not good all the time."
White also sang his current single, "Livin' the Dream."
"I grew up in the foothills of the Appalachian Mountains, and I guess you could say I was living the dream," White explained. "I heard this tune and just fell in love with it — fell in love with what it said. I do think there's a lot of bad stuff happening out there, but … when you get through it and get on the other side and you look back on it, it makes you a better person."
Nettles wrapped up the show with a full-band performance of three of her songs: the title track of her upcoming album, "Playing With Fire," "Drunk in Heels" and her current single, "Unlove You." She also sang two Sugarland songs, "Baby Girl" and "Something More."
New Country Albums Coming in 2016