Craig Wayne Boyd Unveils 'Top Shelf' Album Cover, Track Listing [Exclusive]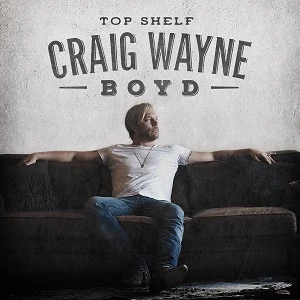 On Oct. 27, Craig Wayne Boyd's fans will (finally) get to hear a full album's worth of new music from him — his first full-length project since winning The Voice Season 7 in 2014. The singer is giving The Boot's readers the first look at the cover and track listing for the new record, which he describes as "classic … edgy … [and] passionate."
"I feel like the album itself — it's got a little bit of the grit, the whiskey, to it … [but] with my wife now being such an important part of my life, she brought a little bit of sophistication to me," Boyd tells The Boot, explaining how Top Shelf got its name. "So it's a little bit like whiskey and wine, but rather than calling it Whiskey and Wine, I felt like, 'You know what, it's not the cheap stuff; it's the top shelf.'"
As The Voice's Season 7 winner, Boyd was signed to Dot Records, but with the help of a lawyer, he negotiated his way out of that record deal after, Boyd says, no one at the label knew who he was. Still, Boyd's big The Voice win "was like throwing rocket fuel on my career": His live crowds were getting bigger, "and it was just mind-blowing, and I knew at that point, I needed to get some new music out."
In March, Boyd signed a deal with Copperline Music Group, teaming him up with Reviver Entertainment Group for radio promotion and BDG / RED for distribution; however, by that point, some of the songs he had originally intended to include on the project were a couple years or so old. More importantly, Boyd was in a completely different place: He'd gotten married, welcomed a baby girl, Dakota Lynne, and is now awaiting the birth of his and wife Taylor's second child together (their family also includes Boyd's son Jaxon, from a previous relationship).
"My thoughts were a lot different," Boyd tells The Boot, "so I really felt in my heart, I wanted to go back in and re-record some stuff."
Working with producer Will Edwards, Boyd built off what he had previously recorded, weaving in nods to both Boyd's influences and to his new family. "Better Together," specifically, is a song that Boyd wrote for his wife, after a trip to Santa Monica, Calif.; they watched the sunset from atop a building, and Boyd recalls telling her, "I've been in this exact place before, but it looks so different to me, and I think it's because you are here with me."
"There's a lot of, just life in general, that I've put into this album," Boyd says.
Boyd's wife makes an appearance on Top Shelf herself, too: She sings harmonies on "Somewhere in There." Boyd had been looking to enlist a female country artist to turn the song into a duet, but when schedules didn't work out, he called up Taylor — who was a vocal major at Boston's Berklee College of Music — at the last minute and told her to get down to the studio.
"It was the coolest moment," Boyd reflects, "because that's something we've never shared together." (It's also a fitting collaboration because Boyd chose to record the song because he felt it told his and Taylor's story.)
Top Shelf's final song is an Eric Clapton cover, "Presence of the Lord." Boyd grew up in a religious household, and although he "[doesn't] claim to be the perfect guy, by no means," he wanted to include a song "that gave honor where I feel it was due." For Boyd, "Presence of the Lord" in particular was the right choice because the song's lyrics talk about finding the place you're meant to be — and he feels like, in life, he's there.
"That's really [about] finding my place in my heart, and in life that I feel that I'm in the proper place," Boyd explains. "I think that the whole album kind of encompasses that."
"My Baby's Got a Smile on Her Face," Boyd's first single following his victory on The Voice, reached No. 1 on the Hot Country Songs chart in 2015, making it only the second single to debut at the top spot on that chart (the first was Garth Brooks' 2007 hit "More Than a Memory"). Fans who fell in love with that song, and with Boyd's performances during his time on The Voice, should find plenty to like about Top Shelf — but, Boyd says, he also hopes they see him expanding his musical reach.
"I did approach this album with an open mind of genre, of music in general … I hope that they do hear me, but we did branch out and push the envelope a little bit," Boyd says, specifically noting the addition of horns on a couple songs (he was a saxophone player in high school and college) and some nods to his traditional country influences and childhood spent as part of a Pentecostal church. "It's an eclectic album, but also, I feel it's cohesive because the one common denominator is the twang in my voice and the attitude of the complete album."
Visit CraigWayneBoyd.com to learn more about Top Shelf and Boyd's upcoming tour dates.
Craig Wayne Boyd, Top Shelf Track Listing:
1. "Stuck in My Head" (Arlis Albritton, Brian Davis, George Ducas)
2. "Somewhere in There" (Jared Mullins, Travis Denning, Chris Stevens)
3. "She's Killing Me" (William Dewar Hopkins, Bobby King, Steve Mitchell)
4. "Wild Ways" (James LeBlanc, James Matthew Nolen, Skip Black)
5. "We Sweat" (Josh Helms, Walker Hayes, Matt Willis)
6. "Everywhere You Go" (Cole Taylor, Shane Minor, Matt Dragstrem)
7. "Sweet Temptation" (Jason Mizelle, Pete Steward, Josh Helms)
8. "Better Together" (Craig Wayne Boyd, Will Edwards, Brett James)
9. "Hold Me Up" (Josh Helms, Jason Mizelle, Chris Cron)
10. "Only in My Mind" (Thomas Tillman, Chad Tyler)
11. "Interlude"
12. "Presence of the Lord" (Eric Clapton)
13. "Sweet Temptation Mini Jam"
More of 2017's New Country Albums
The Voice's Most Unforgettable Country Moments