Craig Morgan Interview: 'This Ole Boy' Proves Singer's Hard-Earned Longevity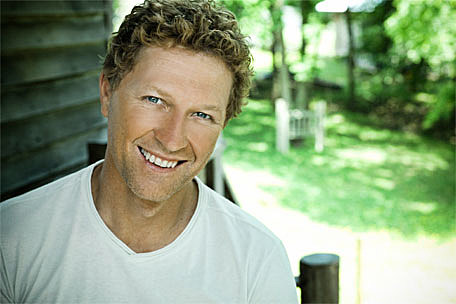 Craig Morgan prefers to say his debut album came out ten years ago, not a "decade."
"It sounds better — doesn't sound as long, does it?" laughs the singer, who looks about a decade younger than his 47 years. He seems genuinely surprised that his career has been around for that amount of time, despite the fact that he's releasing his sixth career album, 'This Ole Boy,' today (Feb. 28) on his new label, Black River Entertainment.
"I'm not where I thought I'd be!" Craig says with more laughter, explaining, "I thought I'd try country music for a couple years and then I'd end up back in the Army. We've surpassed any and everything that I've ever expected. I'm a member of the Grand Ole Opry. We've had 14 Top 10 hits. A lot of guys that have been in country music as long as I have aren't in it anymore. So, I'm extremely grateful that we're still working a lot and we're still here."
The Tennessee native is looking forward to fans hearing the new album, with its title track already getting great response. "We're still very vital to this industry, and we still have a lot to bring," says Craig. "It's hard to do that, unless you reach a certain level by a certain point in your career. A lot of the industry kinda writes you off. For some reason, the industry still lets me be here, and we're still doing a whole lot."
He points to his television show, 'Craig Morgan All Access Outdoors,' which is in its second on the Outdoor Channel, as well as the potential for him jumping into the acting arena, as some of the new career opportunities that have been afforded him.
"We still have a whole lot to accomplish," he concedes. "I would expect that this first week's sales on this album will be my biggest first week's sales ever, and that's saying a lot because I've been on Atlantic, Sony and Broken Bow [Records], where we'd accomplished a lot. I have a lot of that same feeling that we had at Broken Bow early on – I have that here (with Black River Records). But the feelings that I had then, and that I have now, I will experience those feelings with this label for a long time. I don't think I'll see the changes with these guys that I'd seen there. It's exciting. It's a wonderful place to be."
His first album in nearly three years, 'This Ole Boy' was co-produced by Craig and longtime writing partner Phil O'Donnell. Craig is a co-writer on seven of the project's 12 tracks.
'This Ole Boy' is one of the tunes that he didn't write. Penned by Ben Hayslip, Dallas Davidson and Rhett Akins (otherwise known as the 'Peach Pickers'), Craig knew when he first heard it that it was a tune he could make his own.
"I fell in love with the song. It immediately felt like something that I'd written," says the singer. "When I listen to music that's being pitched that I didn't write, I don't look to see who wrote it because that influences you even if you don't think it does. Sometimes I've had people send me songs that I was a writer on! So, when I got this song, I immediately got on the phone and called Phil and I said, 'I was listening to this song, 'This Ole Boy' – did we write this?' It felt that familiar! And Phil said, 'No, that was Rhett and Ben.' So I said, 'Well, this is definitely a no-brainer. If it feels that comfortable, we should cut it!'"
The video has been a hit, as well, with its two co-stars, actress Angie Harmon (a self-proclaimed Craig Morgan fan) and a loveable dog who is not so impressed with Craig but takes to the actress right away. This results in a few funny scenes, with the dog competing against the singer for Angie's attention. (Watch the video below.) It is through Angie that Craig may get a shot at an acting part on her show, 'Rizzoli & Isles.'
Watch the 'This Ole Boy' Video

Craig says they decided on 'This Ole Boy' as a single because it sounded country radio-friendly.
"I'd not had a single out in awhile, so it was important that I come to radio with something that was fresh," he explains. "I didn't want something that they would have to think real hard about whether or not they could play it. Now, there's stuff on the record that may come out as a single, that might be a little controversial … where some radio guys go, 'Let's see how it does first.' For the first single, I wanted something that they could play. And I've told people this ain't gonna cure no diseases, but it's a fun song that makes you feel good when you hear it."
Craig says that he was able to go into the studio and record the new album in a way that he had not been able to do in the past. "We took our time making this record. I wasn't nervous. I wasn't scared about whether or not something was going to work," he explains. "Vocally, I sang better than I ever have because I took the time beforehand, knowing that I was going in the studio, to make sure I was ready. So a lot of components went into making this record, and I think I made the best record I've ever made … and maybe the best one I ever make."
Craig gives a lot of credit to Black River Entertainment for believing in him and expressing a renewed excitement in his music. "I got an energy from these people that I've not felt since I cut my very first album," he says of the folks at his label. "They're excited about not just this song or the album, but the longevity of my career. They're excited about Craig Morgan, and that's a wonderful thing to know that they're going to be there to help support you and be a part of your career."
Craig says the body of work on 'This Ole Boy' defines him and where he is in life better than anything he's ever done. "This whole album is a portrait of where I am at in my life, from 'Show Me Your Tattoo' to 'Love Loves a Long Night' or 'Stories,' which has a great hook: 'You might have a few less scars, but I'll have better stories.' That's just where I'm at. I'm in a wonderful place and all of these songs together define where I am.
"The great thing about this particular record is all of these songs define where I'm at in my life, and I think there's stuff on here that a 15-year-old can talk about, as well as a 50-year-old or a 70-year-old. I've never felt like I've had a better compilation of music that defines not only who I am, but who we are as a people who listen to country music."
Among his favorite tunes on the CD are 'Love Loves a Long Night,' a sexy song which he says is a bit unusual for him. "It allows me to sing in a way that I haven't been able to sing on some of the other stuff I've cut in the past," says Craig. "Still, it's a song that people might expect from me and appreciate."
Another tune, 'Corn Star,' shows off Craig's quirky sense of humor. Co-written with Jeffrey Steele and Shane Minor, the song is about a country gal who turns heads in her mid-America hometown. "Shane called me and said, 'We've got this song you need to be a part of. It's right up your alley.' They brought it to me and I re-wrote it and made it mine."
Craig breaks into the song, singing us a few lines:
"She's a corn star! / Talk of the crop at every county fair, y'all / Corn star! / Blue ribbon winner for the last five years / They cut a four-lane highway right through her pasture / Blamed it on progress and movin' traffic faster / Everybody knows the only reason for the road / Was to see her chug-a-luggin' on top of that tractor / She's a corn star!"
"It's a fun, fun song!" laughs Craig after his impromptu performance, adding with a bit of sarcasm, "It's probably gonna be the biggest hit of my career!"
Maintaining a career for ten years is not always easy, especially when trying to balance that career with being a husband and a father of four. Craig and his family seem to have a good working solution to maintaining that balance.
"It's never easy, I'll say that," the singer admits. "The thing that has made it possible for us is we talk about it on a regular basis. When the kids get a new iPad when Christmas rolls around, we talk about the reason you get that iPad is because of what I do. I tell them I know it's difficult because I didn't get to come to your school the other day for this thing, but I had to work.
"We've talked about it from the very beginning, since they were little. They're now 14 and 15, and I have one in college and my daughter just graduated from college. We talked about the reason she graduated college and doesn't have any grants and loans to pay back is because of what I do. So, I didn't get to come to a lot of the things that you did, but there's a trade-off. That's the key.
"And my wife – she's the rock, she's the foundation," Craig continues. "It's frustrating for her. We entered into this agreement that I wouldn't be gone over ten days before I would come home for a couple days. There's been times I've gone 15 or 20 days, especially with two full-time jobs: the TV show and the music. But, she'll get mad about it and we'll talk about it.'
Craig pauses for a moment, contemplating the role his wife plays in holding it all together for them. He smiles and continues, "She gets over it."