Top 10 Feuds in Country Music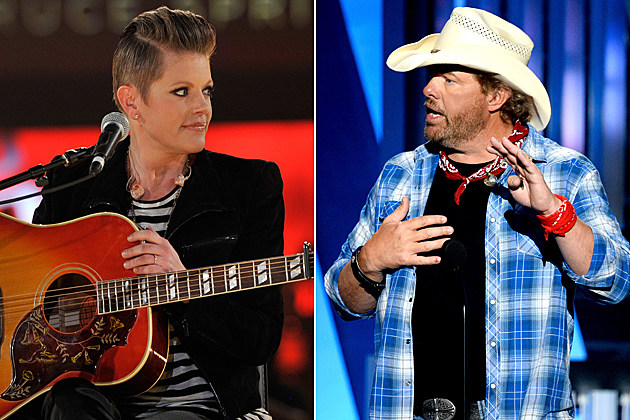 Folks in country music like to play nice with each other. But there are times when, as Waylon Jennings once sang, something's got 'em "feudin' like the Hatfields and McCoys." The gloves come off, sparks fly, and the real fun begins.
Below The Boot counts down a few highlights — and low blows — from country's pugilistic past!
Dolly Parton vs. Porter Wagoner
First Blow: From 1967 to 1974, they were singing partners, and though Wagner claimed they had been more, Parton disagreed. When the partnership ended, Parton wrote "I Will Always Love You" for him. But there wasn't much love in 1979, when Wagner filed a $3 million breach of contract suit against her.
Final Round: The two made up. In 1988, they performed together on Parton's TV variety show. She was at Wagner's bedside when he died in 2007.
Alberto E. Rodriguez / Ryan Miller, Getty Images
Carrie Underwood vs. Jessica Simpson
First Blow: This battle of blondes began over a Cowboy. Underwood was linked to Dallas QB Tony Romo but said only that they were "kindred spirits." Her revelation that the "spirits" stayed in touch post-huddle didn't jive with Simpson while she and Romo were dating. "I don't understand why she would say that," she said.
Final Round: Simpson declared the supposed feud "media-driven" and praised Underwood, telling The Boot she was impressed by her "incredible voice." She and Romo later broke up.
Kevin C. Cox, Getty Images
Alan Jackson and George Jones vs. CMA Awards
First Blow: Nominated for 1999's CMA Single of the Year Award for "Choices," Jones should have been celebrating, but when the CMA said he could only perform a snippet of the tune, he stayed home.
Final Round: Watching the show, Jones heard his buddy Jackson interrupt his own song to croon a few lines from "Choices." Jackson, inspired to act after visiting Jones following a near-fatal car wreck, earned a standing ovation. And Jones shed a few happy tears.
Rick Diamond, Getty Images (2)
Brad Paisley vs. Richard Marx
First Blow: In 2001, Paisley noted that while pop music is about production, country music is about songs. One of pop's top tunesmiths took exception. "Pop songwriters don't take the craft of songwriting as seriously as [Paisley] does?" Marx said. "Tell that to Paul McCartney." Paisley stood his ground, asserting, "You can't convince me that a song like "… Baby One More Time" is something you'd sit there and say, 'What a message — what lyrics!'"
Final Round: The former rivals have spent time together — on the country charts. Paisley keeps cranking out hits, and Marx co-wrote tunes for Keith Urban and SHeDAISY.
Rick Diamond / Mike Windle, Getty Images
Tim McGraw vs. Curb Records
First Blow: A third best-of set would be a thrill for most artists, but not Tim McGraw. While the singer was working on new songs, Curb announced Greatest Hits 3. "I am saddened and disappointed that my label chose to put out another hits album instead of new music," McGraw said in a statement. A Curb exec disagreed, saying he had "numerous conversations" with McGraw's reps about "all aspects" of the package. McGraw filed suit for breach of contract, claiming Curb was keeping him in "a perpetual state of involuntary servitude" by releasing a number of projects designed to extend his contract against his will.
Final Round: After years of legal wrangling, McGraw won his release from Curb in court and has since recorded albums for Big Machine, which he says has revitalized his career.
Larry Busacca, Getty Images
LeAnn Rimes vs. Wilbur Rimes
First Blow: Talk about daddy issues! In 2000, LeAnn filed a lawsuit against her father, claiming he and her manager manipulated the singer and took more than $7 million of her earnings. Wilbur counter-sued, calling his kid "a spoiled brat."
Final Round: In 2001, LeAnn hosted the ACM Awards sporting a t-shirt reading "Daddy" and sang, "Tonight, I won't bother to think of my father." That same night, she met her future (first) husband, Dean Sheremet. By the time the couple married in February 2002, father and daughter had reconciled. Wilbur walked LeAnn down the aisle, and the suits were settled.
Ethan Miller, Getty Images
John Rich vs. Jared Ashley
First Blow: In this case, it was a literal first blow following an alleged threat. On stage at a Nashville nightclub, Ashley was confronted by Rich. The former Nashville Star claimed he'd been punched in the face at Rich's club, after which Rich was arrested for assault. Mix in nasty voicemail, lawsuits and alleged break-ins, and it's a volatile cocktail — plus the makings of a damn good country song!
Final Round: Rich and Ashley sued each other back and forth, and Ashley's attorney, Chris Sevier, got dragged into the middle of a mess that included allegations of copyright infringement, as well as Rich accusing Sevier of stalking him.
Michael Loccisano, Getty Images
Kristen Hall vs. Sugarland
First Blow: Three became two when Hall left Sugarland in 2006, reportedly to concentrate on songwriting. The duo that remained went on to become one of the biggest acts in country music. Hall filed a $1.5 million suit against her former partners, Kristian Bush and Jennifer Nettles, claiming she was promised a share of the group's future earnings.
Final Round: The suit was settled in 2010 for an undisclosed amount.
Scott Gries, Getty Images
Travis Tritt vs. Billy Ray Cyrus
First Blow: "Achy Breaky Heart" was wildly successful … and the subject of much derision. Asked for his opinion, Tritt called the song "frivolous" and said he didn't want to see country music turned into an "ass-wiggling contest." Cyrus fired back (using Tritt's own lyrics!) at the 1993 American Music Awards. Accepting Favorite Country Single, he raised the trophy and declared: "To those who don't appreciate it for what it is, "Here's a Quarter, Call Someone Who Cares.""
Final Round: Tritt apologized to Cyrus and even sent him a peace lily. In 2002, they performed together at the memorial for Waylon Jennings.
Rick Diamond / Mike Moore, Getty Images
Dixie Chicks vs. Toby Keith
First Blow: Asked about Keith's post-9/11 anthem, "Courtesy of the Red, White and Blue (The Angry American)," Dixie Chicks lead singer Natalie Maines said, "It's ignorant, and it makes country music sound ignorant." Keith labeled Maines "a lousy songwriter" and toured with a backdrop depicting her consorting with Saddam Hussein. She then wore a t-shirt bearing the not-so-subtle message "FUTK."
Final Round: In 2008, Al Gore invited the two to "make nice" by appearing together in PSAs for climate change. They agreed, but the plan was scrapped soon after, with both sides claiming scheduling conflicts.
Larry Busacca / Ethan Miller, Getty Images