Boot Spurs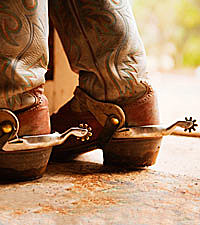 What's happening in the world of country music? Marriage, break-ups and polar bears … oh my!
Kellie Pickler married her songwriter boyfriend on a private beach in the Caribbean. The two most asked questions: Was calamari served at the reception, and are they real? My bet is yes and no — not necessarily in that order.
Meanwhile, Shania Twain lived out a country song when she married the guy who was married to the girl who stole her guy. Gwyneth Paltrow, Tim McGraw, Mindy McCready and Jamey Johnson have been cast in the leads for the movie, which will be shown on the all new NOT IN MY LIFETIME channel. You can figure out for yourself who's playing who.
And completing the tri-fecta for country romances over the holiday, LeAnn Rimes got engaged to actor Eddie Cibrian. Her engagement ring is so big that it took it took 12 tries for Eddie to lift it past the teddy bears and the little fake Rolexes in the claw machine.
It wasn't all good news for country stars and romance. Word is that Taylor Swift and actor Jake Gyllenhall have already split. Jake says it was a fun romance that unfortunately had to end. Taylor says it was just ongoing research for her next album.
Dierks Bentley got his chill on by being a Polar Bear and jumping into a frozen lake just outside of Nashville to ring in the new year. When Dierks finally climbed out of the frigid water, he realized he wasn't quite sure what he was thinkin' as it was way too cold to get it up on the ridge.
There's also the news that country sales are down 5%, Christian music lost 12% in sales and rock dropped 16% in sales. Meanwhile, hip hop gained 3%! Those figures did not go unnoticed by Nashville artists. Bill Anderson says he'll release a rap CD next quarter under a pseudo name of "The Rap Whisperer." Tracks include 'Drive By Lullabye' and 'Be STILL Homey.'
And finally … a rumor to dispel. There is no truth to the murmurs that Lady Antebellum will be recording a soundtrack for the new season of 'Jersey Shore' under the name of Lady A-WOWW.
See ya next week, kids …
— Ophelia
*Ophelia Payne is a brand-new contributor to The Boot. Check back every week for her humorous takes on all the latest, greatest country happenings!