Boot Spurs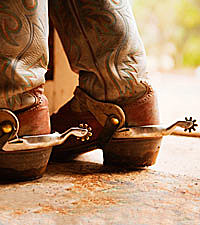 This week's Spurs dig into all things Biebs, some things Doobie, with a dash of Hootie.
The Doobie Brothers were invited to sing on the Grand Ole Opry for the very first time. To show their love of country music, the group will be singing 'Long Black Train a Running' with Josh Turner. Word is that the Doobies are recording a country project with — no surprise here — Willie Nelson, who is a bonafide Doobie expert.
PETA supporter Chrissie Hynde of the Pretenders found out that Lady Antebellum are performing at a big Kentucky Fried Chicken shin dig and sent the Grammy-winning trio a letter, basically asking them to take a stand against inhumane treatment of the fowl. Charles Kelley tweeted that they would consider it … but no way was he NOT going to wear the Colonel Sanders signature white suit while performing 'Need You Now.'
In a related note, Blake Shelton sent a note to Lady Gaga asking her to end her abuse of Grade A Large eggs.
Jerrod Niemann's song, 'How Can I Be So Thirsty' was performed on the February 22 episode of the hit show, 'Glee.' After hearing the song, Sue Sylvester tweaked an old line from a former 'Glee' episode and sent it personally to Jerrod. The note read, "So you like drinking songs? It doesn't mean you're gay. It just means you're awful." No response yet from Jerrod or the Hung Jury.
Are you as excited as I am over the news that Justin Bieber has just recorded a video with Rascal Flatts? (I'd twitter about it but there's no way to do that in just 140 characters.) Must be nice for Justin to be able to work with his elders some, huh? As much fun as the Flatts boys had, lead singer Gary LeVox is quick to dispel rumors that the three of them have been tapped to play older family members in the TV pilot being developed for Justin, 'Leave It to Bieber.'
Carrie Underwood is getting ready to spread her acting wings, as she's set to co-star in a movie titled 'Soul Surfer.' Carrie mistakenly thought the movie was going feature her friend Darius Rucker starring as a frustrated cable TV viewer who was lightning fast with a remote control. Disappointed but undaunted, Carrie is still going through with the movie about the teenage surfer who lost her arm in a shark attack … but vows to pitch the other idea to Darius.
And finally, Toby Keith is getting his own brand of tequila, called "Toby Keith's Wild Shot Mezcal." Toby promises that if you drink two shots or more that you won't care if you hear a radio station play a Dixie Chicks song.
That's it for this week, kiddies. Now go outside and play.