CMT Awards Winners 2012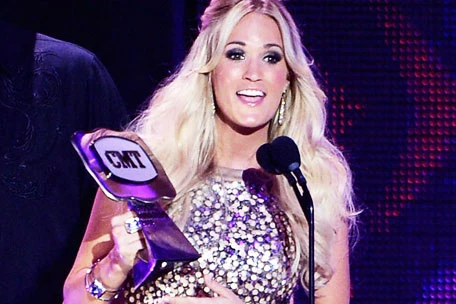 From the winners to the performances to the fashion, it's pretty safe to say the CMT Music Awards broadcast is one of the most unpredictable awards shows in the entertainment industry. Wednesday (June 6) night's show proved no exception. In fact, the only certain aspect of the CMT Awards was the artists' gratitude toward fans, who determined the winners through online voting.
"Thank you so much, everyone who's been voting for any of us tonight," said the night's biggest winner, Carrie Underwood, upon accepting Video of the Year honors for "Good Girl." "I want to thank you guys for watching the videos, voting for them, supporting all of us, because we all need you and we all love you."
Carrie was also a winner in the Collaborative Video of the Year category, for her desert romp with Brad Paisley in "Remind Me." Male Video of the Year honors went to Luke Bryan for his sexy "I Don't Want This Night to End" clip, while Miranda Lambert took home the Female Video of the Year belt buckle trophy for her poignant "Over You" video, inspired by the untimely death of husband Blake Shelton's brother.
See a full list of 2012 CMT Music Awards winners and nominees below.
Video of the Year
Jason Aldean – "Dirt Road Anthem"
Kenny Chesney featuring Grace Potter – "You And Tequila"
Toby Keith – "Red Solo Cup"
Lady Antebellum – "We Owned The Night"
Miranda Lambert – "Over You"
Brad Paisley with Carrie Underwood – "Remind Me"
Rascal Flatts featuring Natasha Bedingfield – "Easy"
Blake Shelton – "God Gave Me You"
Taylor Swift featuring The Civil Wars – "Safe & Sound"
**Carrie Underwood – "Good Girl" – WINNER
Male Video
Jason Aldean – "Dirt Road Anthem"
**Luke Bryan – "I Don't Want This Night To End" — WINNER
Eric Church – "Drink In My Hand"
Toby Keith – "Red Solo Cup"
Blake Shelton – "God Gave Me You"
Keith Urban – "Long Hot Summer"
Female Video
Sara Evans – "My Heart Can't Tell You No"
**Miranda Lambert – "Over You" – WINNER
Martina McBride – "I'm Gonna Love You Through It"
Kellie Pickler – "Tough"
Taylor Swift – "Ours"
Carrie Underwood – "Good Girl"
Group Video
Eli Young Band – "Crazy Girl"
**Lady Antebellum – "We Owned The Night" – WINNERS
Pistol Annies – "Hell On Heels"
Rascal Flatts – "Banjo"
The Band Perry – "All Your Life"
Zac Brown Band – "Keep Me In Mind"
Flip Through CMT Music Awards Photos
%VIRTUAL-MultiGallery-157414|156457|156190|150047%
Duo Video
Love and Theft – "Angel Eyes"
Montgomery Gentry – "Where I Come From"
Sugarland – "Tonight"
The Civil Wars – "Poison & Wine"
Thompson Square – "Glass"
**Thompson Square – "I Got You" — WINNERS
USA Weekend Breakthrough Video
Lauren Alaina – "Georgia Peaches"
Brantley Gilbert – "Country Must Be Country Wide"
Hunter Hayes – Storm Warning"
**Scotty McCreery – "The Trouble With Girls" – WINNER
Pistol Annies – "Hell On Heels"
Thompson Square – "I Got You"
Collaborative Video
Kenny Chesney featuring Grace Potter – "You And Tequila"
**Brad Paisley with Carrie Underwood – "Remind Me" – WINNERS
Rascal Flatts featuring Natasha Bedingfield – "Easy"
Lionel Richie with Shania Twain – "Endless Love"
Taylor Swift featuring The Civil Wars – "Safe & Sound"
Zac Brown Band featuring Jimmy Buffett – "Knee Deep"
CMT Performance of the Year
**Jason Aldean – "Tattoos On This Town" from "2011 CMT Artists of the Year" – WINNER
Lady Antebellum – "Dancin' Away With My Heart" from "2011 CMT Artists of the Year"
Little Big Town – "Fix You" from "Music Builds: The CMT Disaster Relief Concert"
Blake Shelton – "Footloose" from "Invitation Only: Blake Shelton"
Sting and Vince Gill – "If I Ever Lose My Faith In You" from "CMT Crossroads: Sting and Vince Gill"
Steven Tyler and Carrie Underwood – "Just A Dream/Dream On" from "CMT Crossroads: Steven Tyler & Carrie Underwood from the Pepsi Super Bowl Fan Jam
Watch Carrie Take Top Honors at the CMT Awards
#fivemin-widget-blogsmith-image-602309{display:none;} .cke_show_borders #fivemin-widget-blogsmith-image-602309, #postcontentcontainer #fivemin-widget-blogsmith-image-602309{width:570px;height:411px;display:block;}

try{document.getElementById("fivemin-widget-blogsmith-image-602309″).style.display="none";}catch(e){}
Watch Carrie Underwood's 'Good Girl' Video