CMA Music Fest Friday: Reba, Lady A + More Rock LP Field
From superstars Reba, Lady Antebellum, Sugarland and Keith Urban to engaging star on the rise Ashton Shepherd and the comedic flair of the Cleverlys, the second night of CMA Music Fest concerts at Nashville's LP Field represented a diverse line up that kept fans riveted. It all began with country veteran Gary Morris delivering an amazing rendition of the Star Spangled Banner that reminded the audience how he dominated country radio and conquered Broadway with that incredible voice.
The evening's host Storme Warren then welcomed Ashton for a three-song set that included the title track of her debut CD 'Sounds So Good' which had the whole crowd singing along. Shepherd, who is expecting her second child, looked radiant as she closed with the sassy anthem, 'Look It Up,' the lead single from her second album, 'Where Country Grows,' releasing July 12.
Comedian Paul Harris provided a few laughs as the stage was being set for Dierks Bentley. Wearing a crisp white t-shirt and backwards baseball cap, Dierks immediately got the crowd on its feet, opening with 'Feel the Fire.' Next up was the free-spirited hit 'Free and Easy (Down the Road I Go).' The crowd cheered as Dierks told them after LP Field and the bars of Lower Broadway had closed, they were invited to party with him 'Up on the Ridge' and he launched into the title track of his acclaimed bluegrass album. 'Am I the Only One' kept the party spirit alive and Dierks closed out his much-too-short set with 'Sideways.'
Paul Harris emerged again after Dierks as part of the Cleverlys. Though most of the CMA Music Fest crowd might have initially been scratching their heads and saying "Who are these people?" they won over the audience in just two songs. After all, you've got to love a bluegrass group from Arkansas bold enough to cover the Black Eyed Peas' 'I've Got a Feeling' and then follow that up with 'Walk Like An Egyptian,' the 80s hit by the Bangles.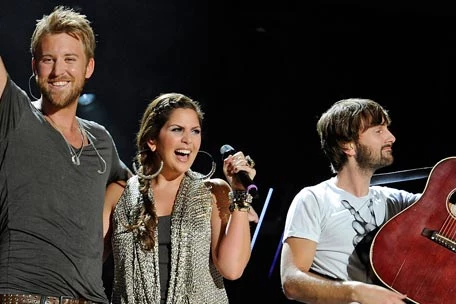 Next up, Lady Antebellum received thunderous applause as they kicked off their set with 'Our Kind of Love' and 'I Run to You.' "This next song takes me back to when I was a little girl," Lady A's Hillary Scott told the crowd as she broke into 'American Honey.' The trio served up their current hit 'Just a Kiss' and closed their incredible set with the mega hit 'Need You Now.'
As the speakers burst forth with 'Man, I Feel Like a Woman,' Shania Twain surprised the CMA Music Fest crowd as she stepped on stage to introduce Sugarland. "I miss you! So nice to see you," she told the cheering crowd. "I'm here to introduce two people I love and admire so much."
Sugarland's Jennifer Nettles and Kristian Bush took command of the stage with an energetic set that began with 'Stuck Like Glue' and kept the hits coming with 'All I Wanna Do,' 'Tonight' and 'Everyday America.' Looking sleek in bright red pants and a black tank top, Jennifer playfully broke into a few bars of Cee Lo Green's 'Forget You' and channeled pop diva Britney Spears with 'Hit Me Baby, One More Time' before seguing into Dolly Parton's classic 'Nine to Five' and a bit of the Destiny's Child hit 'Bootylicious' and then jumping back into 'Everyday America.'
Music City Mystique, an amazing Nashville drumline, joined Sugarland for a rousing performance of 'Hey.' Before launching into 'Gotta Be Something More,' Jennifer addressed the audience. "People come up to us and say 'Y'all are so lucky are so lucky to go out on the road and play your music," she said. 'I look at all your smiling faces and I say 'Damn right!'"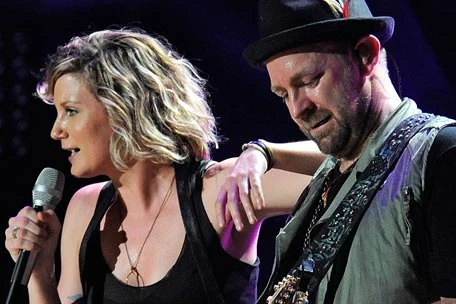 The nightly concerts at LP Field are being taped for an upcoming ABC television special. Apparently, there was some glitch because Storme announced that the song needed to be repeated, but the crowd didn't mind at all as Sugarland and Music City Mystique launched into an encore performance.
The CMA Music Fest crowd got a taste of what audiences can expect when Keith Urban launches his 'Get Closer' tour in Biloxi, MS on June 16. He kicked off his set with 'Put You in a Song' while the audience sang along. In a night dominated by acts performing up tempo anthems, God bless Keith for changing pace and doing a ballad. It was one of the highlights of the night when he sang his beautiful No. 1 hit 'Without You.'
Keith also surprised the crowd by bringing out Jake Owen, who will be touring with him this summer. Jake launched into his hit 'Don't Think I Can't Love You' as Keith played guitar and joined in, singing the second verse. Jake was an obvious favorite with the crowd and they sang along loudly on the chorus of the tune.
"Are you still in a singing mood Nashville?" Keith asked the audience before he cut loose with 'Somebody Like You.' With the help of security, he made his way up into the stands and led the crowd in saying "Hi world! Wish you were here at CMA Music Fest!" After a bit, he worked his way back up to the stage and by the time he and his band took a bow, fans were likely on their phones checking to see when he'd be coming to their city. It was a powerful, passionate set by an entertainer at the top of his game.
Storme, who had been doing an excellent job throughout the night as host, stepped back on stage and made one fan especially happy as he announced the winner of a guitar that had been signed by everyone on the show. Next he introduced Clay Walker, who had been joining him on stage off and on all evening, lending a hand with hosting duties. Clay opened his acoustic set with 'She Won't Be Lonely Long' as the crowd cheered.
"These jeans were $57," he told the audience. "This shirt was $14.99. Being in the middle of 47,000 country music fans — priceless!"
He then sang his hit single, 'Fall' before launching into 'If I Could Make a Living' as the crowd joined in with one of the loudest singalongs of the entire night. "God bless you! God bless the CMA Music Fest," Clay said. "This is the best week of the year!"
The evening's final performer really needed no introduction as fans had been anticipating her performance all night long. Reba burst on the stage, opening with her sassy hit 'Why Haven't I Heard from You?' Looking svelte in black pants and an embellished sleeveless black top with a sweetheart neckline, Reba demonstrated why she continues to be one of country music's reigning superstars AND one of the newest members of the Country Music Hall of Fame.
"We're so proud to be a part of it this year. Are you having a good time?" she asked the audience.
Next Reba delivered a compelling performance of 'Consider Me Gone,' the tune that became her 34th No. 1 single. She followed with 'Is There Life Out There?' and then served up her new single 'When Love Gets a Hold of You' before launching into the high energy hit 'Turn on the Radio.'
Claiming she had a frog in her throat when she performed her new single, she asked the crowd if they would mind if she did it again. The audience enthusiastically encouraged Reba to repeat and she delivered an encore.
She exited the stage around 12:20 am as fireworks began erupting over the stadium, capping an incredible night of country music that fans will remember for years to come.