Chely Wright Implores Christians to Accept Their Gay Peers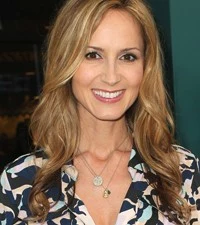 "I was a young, gay, Christian, farm girl from Kansas with dreams of becoming a country music star. Can you wrap your head around that? I really couldn't," Chely Wright admits in 'Confessions of a Gay Christian Country Singer,' written for the religion section of the Huffington Post.
Chely's latest testimonial comes just as New York lawmakers narrowly passed a bill legalizing same-sex marriage (June 23), a gigantic step forward for the gay-rights movement. The 'Single White Female' singer, who is engaged to be married, defends her religious position as an openly-gay, practicing Christian.
"I like analogies; perhaps it's the songwriter in me, so if you'll indulge me, I'll offer this one," Chely writes. "I liken the notion that we [the LGBT community] are a Godless people to a scenario on a grade school playground. Remember when you were in third grade, when it was time to choose teams for a game of kickball during recess and all of the favored, obvious players were chosen first? This left the same players to be chosen last or to never even get a chance to kick or take the field — essentially giving a message to that kid, 'You're never going to get to play. You're not good enough. You don't belong.'"
"Remember that happening to the same kid over and over?" she adds. "Eventually that kid would stop hoping to be chosen for either team. And eventually that kid would probably develop an aversion, perhaps even a life-long, deep loathing for the game of kickball. It's a protective mechanism that humans employ to preserve the most tender parts of their psyche. That's what it feels like for an LGBT kid in a place of worship."
Despite 25 years of self-oppression, which included a suicide attempt (as mentioned in her memoir, 'Like Me: Confessions of a Heartland Singer'), Chely has come to terms with the balance of religion and sexuality in her life. She hopes her confessions inspire others to follow in her path of realization.
"LGBT people of faith are strong in numbers; we want our houses of worship back and we would like to implore those who practice such acts of religious based bigotry to realize that God is not theirs — God is for all of us," she proudly proclaims.
Chely's big screen coming-out story, 'Wish Me Away,' recently won Best Documentary at the Los Angeles Film Festival. The singer-activist previewed the movie in April in front of a sold-out audience during the Nashville Film Festival.
"This is not my film," Chely tells The Boot. "I obviously was the subject of it and I was as complicit as I could be in giving the filmmakers insight into my life. But I didn't say, 'You should go talk to this person or that person.' I made no calls along Music Row to find out if people were willing to participate in it. But I love that they told the story without disparaging the town and the music that I love."
Click here to read Chely's 'Confessions of a Gay Christian Country Singer' article in its entirety.