Charlie Daniels to Host Stars for Stripes Benefit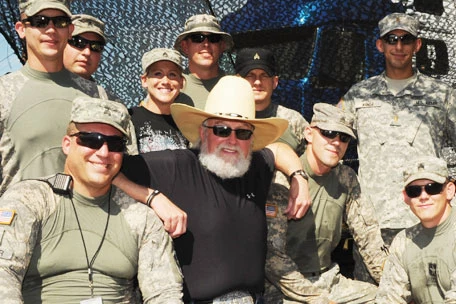 Charlie Daniels and his wife Hazel are set to host 'Have You Forgotten,' a special event commemorating the 10th anniversary of 9/11. Darryl Worley and Chris Young will join Charlie and Hazel Tuesday night (Sept. 20) at Nashville's Palm restaurant for the event, which will benefit Stars for Stripes, a nonprofit organization that provides celebrity entertainment to U.S. troops overseas.
"We're trying to raise funds, and we're also trying to raise awareness," Charlie tells The Boot.
Stars for Stripes works in conjunction with the U.S. Army Europe Morale, Welfare and Recreation Commands (USAREUR), United States Forces – Iraq (USF-I), and Armed Forces Entertainment (AFE) to deliver entertainment to remote areas where U.S. troops are serving.
Stars for Stripes was founded in 2003 by Nashville booking agent Judy Seale, president/CEO of JSI Inc. "I've never seen anybody who is more dedicated to the military than she is," says Charlie. "I have been all over the world with Judy and she is so good about getting entertainment to the troops in some pretty doggone desolate places. She doesn't go to the glamour spots, and she does it cause she loves it."
Since launching eight years ago, Stars for Stripes has sent 54 celebrity entertainment tours overseas, including 37 in Iraq and five in Afghanistan. Performers and Stars for Stripes staffers all donate their time so every dollar donated goes directly to fund a tour to send entertainment to the troops.
"I've been to some tiny bases over in Iraq that few people have served at much less been to," says Charlie, "and it means a lot to those guys and gals when somebody comes to a little base out in the middle of nowhere and says 'Let's play a few songs for you. Where are you from? How's it going for you?' It means a lot to them and Judy has a heart for that. I love being involved with it. I really believe in her and her mission." Last year, Seale was inducted into the Patriots Honor Hall and she has also received a letter of commendation from Gen. David H. Petraeus, who retired from the U.S. Army after 37 years and is now director of the Central Intelligence Agency (CIA).
"I feel unbelievably blessed to have the support of Charlie Daniels, Chris Young, and Darryl Worley for this benefit," Judy says. "They have toured for our deployed troops numerous times and know the importance of their visits. Not only will the attendees be treated to an evening of outstanding entertainment but will also have the chance to shake hands with true American Patriots — John and Jan Vigiano, who lost both their sons in the twins towers, and Jay Redman, a Navy Seal who almost lost his life in Iraq after being shot in the face and arms seven times."
Redman has also founded his own non-profit organization, www.woundedwear.org, which provides free clothing and clothing modifications to wounded warriors and raises awareness of the sacrifices of America's wounded and their families.
Hosted by GAC's Storme Warren, Tuesday night's benefit will not only feature great music, attendees will also have the chance to bid on items during a live auction. 'Have You Forgotten' is sponsored by Military Systems Group, Inc, Nashville Lifestyles Magazine, Horizon Wine & Spirits and the Gary Sinise Foundation.
Chris Young is looking forward to the event and a chance to raise money and awareness for Stars for Stripes. "In the spring, I took my second trip overseas throughout Iraq and Kuwait to play for our troops. My involvement in Stars for Stripes is so important to me," says Chris, who serves on the organization's board of directors. "I'm proud to be part of this 9/11 remembrance and fundraising event that will help keep our deployed troops in good spirits with entertainment."
Entertaining our troops overseas is risky, and even though the celebrities travel with and are protected by the military, there's no avoiding danger. "We played a place called Balad, about 25-30 minutes out of Baghdad by helicopter," recalls Charlie. "There were people on the ground shooting at us with small arms and a rocket propelled grenade. I didn't think it was real. I thought it was an exercise and our guys were practicing. It looked like fireworks."
When the helicopter landed, Charlie found out they had been under attack. "They're our enemies and they take every chance they possibly can to try to hurt us," he says. "We were in the helicopter and they were shooting at us, but I had so many people praying for me back home. I've had the greatest peace every time I've been to Iraq even though we were going to a war zone. The U.S. military is going to take care of you for sure. They do the best job of anybody in the world. Things can go wrong, but the Lord gave me the greatest peace about being there and I was not concerned."
In a surprising turn of events, Charlie later met one of the soldiers who had been stationed at Balad and defended the helicopter that day. "I met a guy in Kansas who was working as a police officer. He had gone after these guys who shot at us," Charlie says. "I was coming off stage and some people wanted autographs. He was doing crowd control."
He and Charlie struck up a conversation and he said he had been stationed in Balad. When Charlie mentioned he had been in a helicopter that was shot at approaching the base, the former soldier said, "I know. I was on the rapid response team that went after the guys that shot at you. I said, 'Did you get 'em?' He said 'We got seven of them.' It was a random meeting. If I hadn't gone over to the rope line to sign autographs, I never would have met him. It was surprising to me to say the least."
Charlie's current single, 'Let 'Em Win or Bring 'Em Home,' is the latest anthem the country icon has written in support of the U.S. military. "What prompted the writing of the song was the Yellow Ribbon event we do every year at David Lipscomb University, which provides scholarships for military folks and their families so they can get a college education," he says. "That night we have veterans, National Guard, wounded warriors and so many people that are supportive of the military. I wanted to do something for those folks. I wanted to pour out my heart so I wrote the song and did it for the first time at the Yellow Ribbon event. I feel our military could win these wars they are in if they were left to their own devices to just go and do it, but there's so much politics involved. We send our people into combat and put handcuffs on them."
Charlie, Chris and Darryl are among the many artists who have worked with Stars for Stripes to entertain troops. Aaron Tippin, Craig Morgan, the Bellamy Brothers, Chely Wright, Bo Bice, Joe Nichols, Diamond Rio, Dierks Bentley and the Marshall Tucker Band have also have been on previous tours.
For those wishing to find out more about Stars for Stripes or to donate to the organization, visit www.starsforstripes.com.