Charlie Daniels, Rascal Flatts, Gary Sinise Perform for Vets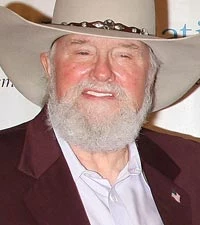 Country music lovers and 'CSI: New York' fans gathered at Nashville's David Lipscomb University Tuesday night (March 6) to hear good music and support a great cause. Chris Young, the Grascals, Darryl Worley, Charlie Daniels and Gary Sinise, who stars as Detective Mac Taylor on the hit show 'CSI:NY,' performed to support Lipscomb's Yellow Ribbon program which helps veterans receive a college degree.
"They are the best we've got. You cannot beat the people in our military," Charlie said backstage.
Rascal Flatts' Jay DeMarcus, Joe Don Rooney and Gary LeVox were surprise guests during the event. "Like Charlie, I've been all over the world meeting thousands and thousands of troops, performing for them and visiting them, and I'm so impressed with the people who serve," said Gary. "I have veterans in my family. I didn't serve myself, but I have great respect for those who do. Obviously, they are our freedom providers and we can never take out freedom for granted. We have to thank God and the service members every single day for the freedom that we have … It's a privilege to be able to go out there try to support them.
"And we get to have some fun, too," Gary added, smiling at Charlie, who presented him with an autographed fiddle backstage before the show. "I'm going to play with Charlie Daniels tonight! It's a thrill and a real honor."
Charlie was equally excited about welcoming acclaimed actor Gary Sinise to the stage. "Gary came in and rehearsed with the band this afternoon. He's very competent," Charlie told The Boot. "He'll do good."
In addition to starring weekly on 'CSI,' Sinise is a veteran of numerous films, including 'Ransom,' 'Apollo 13,' 'Reindeer Games' and 'Forrest Gump,' which earned him an Academy Award nomination for his role as Lt. Dan Taylor. Sinise named his band the Lt. Dan Band after his character in Forrest Gump. "I found myself going on USO tours, shaking hands, taking pictures and signing autographs and they were always calling me 'Lt. Dan,' so when I asked the USO if they'd let me take some musicians with me so I could play and entertain the troops, it seemed fitting that I would name the band after the character since they didn't know what my real name was anyway," he said with a laugh.
On March 31, the Lt. Dan Band will perform a benefit concert in Martinsville, Va., to raise money to build a specially equipped home for Marine Cpl. Joshua Kerns, who lost his right arm and both legs in Afghanistan. The next day, Sinise is scheduled to be the grand marshal at the NASCAR Sprint Cup race at the Martinsville Speedway. Kerns will wave the green flag to start the Goody's Fast Relief 500 race.
During his visit to Nashville, Sinise joined Charlie and the famed Charlie Daniels Band on stage at Lipscomb's Allen Arena to play bass and sing back up during 'Sweet Home Alabama' and 'The Devil Went Down to Georgia.' "It was a privilege to play with Charlie Daniels," he told the crowd after the performance. "I know it's going to be all over YouTube."
Then he proceeded to introduce the evening's surprise guests. "They are not on the bill tonight, but that's the cool thing about Nashville, you never know who might pop in when you're staging a show," he said before welcoming Rascal Flatts to the stage.
"We were driving by and saw Charlie's bus," Gary LeVox told the crowd before confessing that Charlie had actually invited them when they ran into him backstage at the Grand Old Opry. Gary, Joe Don and Jay delivered a crowd-pleasing acoustic set that featured 'Fast Cars and Freedom,' 'What Hurts the Most' and 'Life Is a Highway.'
During the evening Lipscomb University president L. Randolph Lowry announced that going forward the program would be known as the Charlie Daniels Scholarship for Heroes Fund and that Charlie would be embarking on a 10-city tour to raise money for scholarships to aid veterans.
"I took a picture with a bunch of folks that are going to college here," Charlie told The Boot backstage. "We cannot over-emphasize the importance of an education. It means a lot to the quality of someone's life who maybe had to change horses in midstream and were not able to pursue what they planned when they got out of the service. Some have been hurt to the point that they have to change their dreams and change what they wanted to do. That they are able to re-educate, find a new career and raise the quality of their life, that's what this is all about."
The Grascals' Jamie Johnson agreed. "These days if you don't have a college education, you better hope you have a family who has money or a family member that can get you into a job. It's been a very difficult time," he told The Boot. "The first and foremost thing in order to make money and have job security is education. Lipscomb University is incredible for doing this, to let these guys come home after dedicating their lives to us, and give them a scholarship to earn their education and allow them to make more money for their families. It's a great thing."
Like Charlie, Darryl Worley is well known for his support of the troops and frequently touring military bases and donating his time to charitable efforts, but he says the Yellow Ribbon program is special. "Anytime we get an opportunity to do something to help our troops we do it," Darryl told The Boot, "but this is a real special event because when I think about people joining the service and what motivates them to do that, I know, at least in my family, education is right there in the front of their minds … For them to commit to that, sign on the line, do the service and then the thought of them not being able to have that education after all they've done, that would be like being slapped in the face with a rotten mackerel. So when I heard about this, I said, 'Of course, we'll be a part of it!'"
Watch a Report on Veterans in the Job Market

#fivemin-widget-blogsmith-image-680675{display:none;} .cke_show_borders #fivemin-widget-blogsmith-image-680675, #postcontentcontainer #fivemin-widget-blogsmith-image-680675{width:570px;height:411px;display:block;}