Reba, Rascal Flatts, James Otto + More Share Funny Valentines
Valentine's Day can bring out the romantic in every one, but not all plans turn out as romantic as some people think they will!
Reba McEntire recalls the first Valentine's Day she spent with her husband Narvel Blackstock. "He gave me a special gift, a beautiful diamond tennis bracelet. We had just bought our place in Gallatin and we were trying to clear it, and he had made the statement he could clear it himself. So I had the idea to get him a chain saw for Valentine's Day. Well, that went over like a lead balloon. To top it off, the chain was on backwards, he worked all day long trying to trim low branches. The next day he went and hired professional people to clear the property. I don't know where that chain saw is today but I still have the tennis bracelet!"
Thea Tippin remembers that early in her relationship with husband Aaron Tippin, he sent her dozens and dozens of flowers to Reba's Starstruck Studios, where she was working a the time. "The delivery man just kept bringing them in, vase by vase. I was surrounded by flowers and everybody who came to the office that day thought I'd had a death in the family and offered me condolences!"
That romance turned out just great, but David Nail has a story that didn't have such a happy ending. "There was this one year when I was dating a girl and I was not high on funds so I was trying to think of all these creative things I could do with just a little bit of money. I got the idea to buy three roses, three different colors, and tell her that each color stood for a different part of our relationship. I remember the red rose stood for our future. Well, the girl isn't my wife, so I guess that didn't work out too well. I was in my early 20s then and I remember thinking I was changing the world with this card."
Joe Don Rooney of Rascal Flatts says when he was in high school he saw an advertisement in a magazine where he could buy freeze-dried roses for Valentine's Day. "They were supposed to last forever, so I got some of those and they were awesome. I had them sitting there at my girlfriend's house when she got home. She didn't like them because she didn't think they were real. Of course I had to kiss her, because I had to make up for the bad roses I got her."
Jay DeMarcus of Rascal Flatts says his mom continues a tradition that started years ago. "Remember those plastic hearts with the candy that have the words on it? My mom has given me those since I can remember, and to this day she continues to mail me one every year."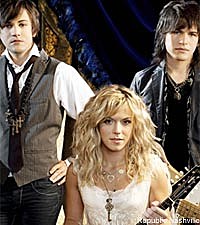 Kimberly Perry of The Band Perry says Valentine's Day is her second favorite holiday. "The best gift I've ever gotten on February 14 was given to me by my parents. I'm a product of the 80s and so, by default, have always appreciated fashion statements like big hair and a gaudy wardrobe. When I was in fourth grade, my mom gave me a teal and white tie-dyed tights and t-shirt outfit for Valentine's Day. There was glitter involved in the design and an oversized matching bow that I put in my teased blonde hair. I wore my newest ensemble to school that day, where my Valentine glam getup was the envy of my fellow 5th grade girlfriends. Or at least that's how I remember it now ... My tie-dyed duds paired with an extra large box of Russell Stover chocolates from my Dad made for the Best Valentine's ever."
Kimberly's brother and bandmate Neil Perry the group sent more Valentine's out than ever this year -- over 600 'You're Hip to Our Hearts' cards to their country music family. "We designed a musical card so that when folks opened them they'd hear the chorus of 'Hip To My Heart'. We had quite a system going: Kimberly would sign her name first, followed by Reid, and I would sign last. Kimberly addressed the envelopes and Reid and I licked and sealed them. It took about five hours to knock them out, but we cranked up some country music -- and Lady Gaga -- and settled in for the long haul. As hard as we worked, the post office had their sorting work cut out for them!"
Jessica Harp says her most romantic memory was in the middle of July 2007, not on Valentine's Day! She was on tour with the Wreckers and had a couple days off, but her manager called and said she had to fly back to Nashville for a photo shoot. He also said they wanted her boyfriend and bandmate, Jason, to be there for the shoot.
"Jason and I had met at the Ryman, as did beloved artists like Johnny and June Carter Cash. When I arrived at the Ryman, Jason was already there. The parking lot seemed deserted and something seemed a little weird. When we walked in the auditorium, I didn't see a camera crew. I looked at Jason, confused, when he told me to put my purse down. He grabbed my hand and started walking me toward the stage. That's when I saw it all -- the stool center stage with a ring box, the huge blown up projection of our favorite photo of Johnny and June ... and once we got on stage, my husband to be got on one knee asking me to marry him. I'm pretty sure I was in shock, I don't remember much of what either of us said -- but I did manage to say yes!"
Mike Eli, lead singer of the Eli Young Band, may have ulterior motives for his gift for his bride to be. He is taking her to cooking classes at Central Market in Texas for Valentines Day. He says it's so they can learn how to cook with each other and for each other.
Duane Allen of the Oak Ridge Boys says Valentine's Day is a very expensive holiday for him. "I have to float a loan at the bank because I have to not only give my lovely wife, Norah Lee, a gift, but I also remember Karen Warf, who works in our office, and Kathy Gangwisch, who was our publicist for many years. You see they not only celebrate Valentine's Day, but it is also their birthday! I always try to give them something very special on that day. So I guess I'd best be heading for the bank now to talk about that loan!"
This Valentine's Day has a double meaning for James Otto and his wife, Amy. It was nine years ago when the two realized that they were meant to be together. They had started dating in February, and it was on Valentine's Day 1998 that they made the commitment to be boyfriend and girlfriend.
Billy Currington remembers giving his very first girlfriend a Valentine gift. "My mom said I had to get her something, so I chose a box of chocolates. I went to her classroom, knocked on the door, handed her the chocolates, and then I took off running."
Mallory Hope say she has a special Valentine every year, whether or not she's dating anyone. "Last year, I was single and my dad sent me roses and a card that said 'Happy Valentine's Day, I love you. You don't need a boyfriend, you've got your father.' He sent me and mom the same bouquet so we had matching flowers. I still have the card and I use it as a bookmark when I go on the road."
Becky Schlegel says that not long ago she came across a journal from junior high school. In it, she found a story about her grandmother and a Valentine's gift. "I had ordered a dozen roses from school, and then given them all away to friends and family ... I decided to save one for my Grandma Ann. As I gave it to her, she started to cry ... she then told me that in all her days, no one had ever given her a flower on Valentine's Day. What a sweet, forgotten story. My Grandma Ann lived to be 100 years old."
Buddy Jewell says his wife, Tene, planned a very special evening for him on Valentine's Day. "One time, Tené sent me on a romantic scavenger hunt. I got home from work and found a note along with fresh clothes on the bed. The note directed me to get cleaned up, dressed and drive to another location where I would find a clue to her whereabouts! When I got there, someone greeted me with a fresh clue and an item that Tené had already purchased ... I would get a new clue at each location and a another item. Everywhere I went, someone knew I was coming and would hand me an envelope with directions to the next location and what I was supposed to pick up along the way. So, I wound up following clues to a florist, a package store, a restaurant and finally a hotel near downtown Dallas where Tené was waiting for me. We had a wonderful dinner, drinks and a very romantic evening. It as an awesome idea and an occasion I'll never forget."
Kristin Scott Benson of the Grascals says one of her fondest Valentine's memories is when her husband got home off the road after being out with IIIrd Tyme Out, with whom he plays mandolin. "He was bearing chocolate and the latest season of my favorite TV show, 'The West Wing,' on DVD. We stayed up until daylight, watching as many episodes as we could ... This was before children, obviously, when sleep wasn't such a precious commodity."
Elaine Roy of the duo The Roys remembers a very special Valentine for their entire family. "The best valentine I ever received was when our whole family went out to eat and Lee (the other half of the duo) and his wife Kim gave my parents and my husband and I each a card for Valentine's Day. My parents card said 'Happy Valentine's Day to Grandparents' and ours said 'Happy Valentines Day to Aunt and Uncle.' We just kind of stared at the cards for a moment until it sank in that Lee and Kim were having a baby!"