Celebrity Twitter Buffs: Top 10 Tweeters in Country Music
Choosing who you follow on Twitter can cause a serious quandary. Each tweeter has to be worthy of your feed, providing you with good information or a good laugh! Since we know you're already following us (@TheBootDotCom), we put together this list of country stars and why they're worth the clicks, high-school superlative style.
10. Rascal Flatts' Jay DeMarcus:
Mr. Congeniality
Of course, each of the men of Rascal Flatts are worth a follow, but we've found that Jay is the most consistent tweeter. Whether he's introducing you to his famous friends, promoting up-and-coming artists or sharing family photos, you'll never feel bombarded by the musician. Also, on a scale of 1 to 10 — 10 being the most likely to respond to fans — we'd give him a solid 7.
9. Taylor Swift:
Social Butterfly
Taylor lives an exciting life, and when you follow her on Twitter, you get to see the world from her unique point of view. The songstress is an avid TwitPic poster, sharing photos of everything from whatever exciting locale she's visiting to the latest exploits of Meredith, her furry companion. She also isn't afraid to geek out, like when she got her signed copy of 'The Hunger Games' from novelist/screenwriter Suzanne Collins.
8. Sugarland's Kristian Bush:c

Band Geek
This man is obsessed with music … and we love it. Speaking of 'The Hunger Games,' after seeing the movie, Kristian tweeted that he was going to start writing District 12 songs. It's this passion that overcomes his lack of frequency in posting, and lands him on our list. He also started the Day Off Record Club (@DayOffRecords) to share older, sometimes obscure records with his followers. You never know what you may discover.
7. Jerrod Niemann:
The Chatterbox
While Jerrod is one of the funniest tweeters around, this Kansas native — note the Wizard of Oz reference in his Twitter handle — is so much more than that: he's country music's lovable chatterbox. He may not respond to every fan who tweets him, but he certainly makes them feel like does. Heck, he even talks to his now-charred bus. Oh, and did we mention that he's hilarious?

<

6. Martina McBride:
The Sweetheart
This mother of three is as gracious as she is beautiful, and that comes across on her Twitter account. She praises her kids, passes cute notes with her husband John McBride (@EYRockOrSuck) and gives us a glimpse into her charmed life. She's rarely negative. In fact, if your understanding of the world stemmed only from her posts, you'd probably think it's made of puppies and rainbows.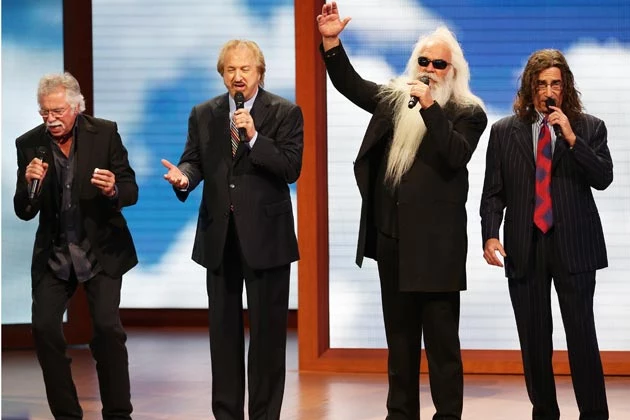 5. The Oak Ridge Boys' Joe Bonsall:
Most Well-Rounded
This author-singer-musician utilizes Twitter perfectly. Hi tweets offer the right mixture of wit, fun and intelligence. From his observations on sports to his thoughts on current events, the banjo player keeps it light, but meaningful. You'll see posts about everything from movies to classic country to what the iPhone's Siri does, and doesn't, know. And then, he'll leave you with a hard-hitting quote.

4. Trace Adkins:
The Over-sharer
Trace has only been in the social-networking world since the end of February, but in that time he's managed to get our attention. In little more than a month, he's posted two naked pictures of himself: the first was cheeky, the second chesty. And according to the father of five, we don't know the half of it: he writes, "Sometimes I just hit cancel. I go too far. I wish some of you could read THAT stuff! Certainly my best work."
3. Sunny Sweeney:
Class Clown
If this Texas tornado ever decides to leave the music business, we're pretty sure she'd do just fine as a stand-up comedienne. Our proof? Her Twitter account. Whether it's a clever one-liner — "I think my phone's autocorrect may be my worst enema." — or a comment on popular culture — "The word "EPIC" has lost the right to exist…. Can we start a petition? Sign name and city below." — there's no way we're taking her off our Twitter text alerts.
2. Brad Paisley:
Class President
Brad conveys an all-American, family man, good-guy vibe, and that comes across via Twitter. Not only is he a huge cheerleader for country music, the singer-songwriter interacts with everyone: fans, William Shatner, country singers, NASCAR drivers. He shares his views on world affairs, photos from backstage, magazine covers, etc., but also keeps the mood light, and often inserts a joke (no matter how cheesy it may be) for good measure.
1. Blake Shelton:
The Bad Boy
Nobody in country music has gotten as much flack for their social media comments as Blake. The key to the Oklahoma native is to take his comments with a grain of salt, and perhaps a shot of whiskey. Blake is the first to admit he's addicted to Twitter, but we're the ones who reap the benefits. From his "I'm so drunk" jokes (yes, they're jokes, people) to straight-forward responses to fans, the personality America fell in love with on "The Voice" is the king — or at the very least the clown prince — of the country music Twitter-verse.