Brynn Marie, 'Bandaid on a Bullet Hole' Is 'Edgy' Debut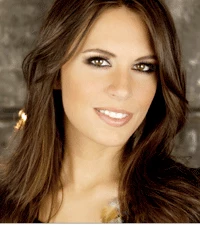 Brynn Marie has come a long way from her hometown of tiny Carmichaels, Pa. (population around 600). The brunette beauty has paid her dues, moving to Nashville about six years ago to chase her country music dreams and spending the last several years circling the country as an opening act and circling the globe on an Armed Forces Entertainment tour. The newcomer has already toured with some of country music's biggest stars, including LeAnn Rimes, Darius Rucker, Jake Owen and Loretta Lynn, honing her craft, as well as writing songs and preparing for her own launch as a solo artist. The first fruit of the vocal powerhouse's labor is her feisty debut single, 'Bandaid on a Bullet Hole,' which she says is just a glimpse of what she has to offer. (Watch the 'Bandaid on a Bullet Hole' video below.)
"It's edgy. I love it. It's country, but it also has some rock and pop elements to it," she explains to The Boot of the uptempo tune. "It's something people can dance to, women can relate to. It's an 'I Am Woman' song, but men can totally rock, too. It's me. I've finally put something out there that defines me as an artist. I wanted to be true to myself and true to my fans."
The singer-songwriter says she knew all along she wanted to make music her career, but was unsure where that path would take her. "I started singing in church, in a Christian band that my family was in," she notes. "I've been surrounded by music since I was born. My dad used to sing to me. It was something I picked up at a young age. It's all I ever really knew."
Brynn Marie may have been content to perform locally in Carmichaels, but she quickly realized her voice had the power to reach a larger audience. "I was singing in church, and people would get emotional and say, 'Wow, you really touched me,'" she recalls. "I realized it's the power of music, that it could touch people, and it moved me, and I knew it was something I wanted to do."
Although she's just revving up her solo career, Brynn Marie is already a seasoned globetrotter. "I got booked to go overseas to play for the troops in the Middle East," she says of the tour that took her to Dubai, Bahrain, Kuwait and several other distant locations. "I realized that in the middle of a war zone, music makes people feel so embraced and loved."
Citing Faith Hill, Shania Twain and Loretta Lynn as some of her early influences, Brynn Marie also soon realized she wanted to make her own music her own way, without being restricted by a record label's vision for her. With that in mind, the brave vocalist decided to release her upcoming EP on her own as an independent artist.
"I have no limitation to my creativity. I can just be who I want to be, and that's why I'm so excited about it," she says of the new music, which she also co-produced. "I had my hand on it. It's real raw, and it's absolutely who I am.
Brynn Marie's EP, 'Things Change,' which includes 'Bandaid on a Bullet Hole' plus five other tunes, will be released March 20. Pre-order it here.
Watch Brynn Marie's 'Bandaid on a Bullet Hole' Video

if(typeof AOLVP_cfg==='undefined')AOLVP_cfg=[];AOLVP_cfg.push({id:'AOLVP_us_1510273844001′,'codever':0.1,'autoload':false,'autoplay':false,'playerid':'61371447001′,'videoid':'1510273844001′,'publisherid':1612833736,'playertype':'pageload','width':476,'height':357,'videotitle':'Test','bgcolor':"});