Brooks & Dunn's 'Believe' Gets New 'Spin' From Jennifer Hudson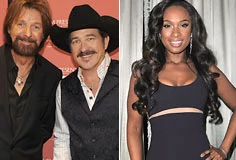 Brooks & Dunn's 2005 Top 10 hit 'Believe' is being revived by singer-actress Jennifer Hudson. She recorded the song for her upcoming album, 'I Remember Me,' which arrives in stores March 22.
The song deeply touched the 'Dreamgirls' star when she sang it during the CBS-TV special 'ACM Presents: Brooks & Dunn — The Last Rodeo' last year.
"It has a gospel inspirational feel," Jennifer tells Entertainment Weekly. "It made the album feel complete. I sang it for Brooks & Dunn at their farewell concert, and I fell in love with the song that night. I had to have it on the album, and I sent my whole team on a mission to get it. Luckily, we were successful and I was able to record it and really put the Jennifer Hudson spin on it."
The former 'American Idol' contestant has a spiritual and emotional connection to the song written by Ronnie Dunn and Craig Wiseman, with lyrics such as "I'm finding more and more truth in the words written in red / They tell me that there's more to life than just what I can see / Oh, I believe."
Jennifer experienced several devastating losses a few years ago when her mother, brother and young nephew were murdered by her sister's estranged husband. Jennifer said she titled the album 'I Remember Me' because it is helping her "to remember the old stuff and celebrate the new."
Brooks & Dunn may have gone their separate ways, but the music they made still lives on in the hearts of fans all over the world. In the meantime, Ronnie is heading up the country charts with his solo single, 'Bleed Red,' while Kix Brooks can be seen in a pair of upcoming films and can be heard as the host of the syndicated radio show, 'American Country Countdown.'