Brantley Gilbert, 'More Than Miles' Lyrics Born of Fork in Singer's Road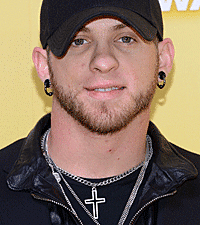 Jason Kempin, Getty Images
Brantley Gilbert has found his niche in the country music community, but when he was first getting into music he wasn't sure that would happen.
"I don't sing anything I don't write and I don't write anything I haven't lived through," Brantley tells The Boot. "At the beginning of my career there was a lot of pressure with folks telling me, 'You gotta move to Nashville.' I was scared if I signed with a label they'd slap a cowboy hat and some Wranglers on me and make me sing somebody else's songs."
Despite his trepidation, Brantley did begin making treks to Nashville to co-write with songwriters who already lived in Music City. While he was on his way north from Jefferson, Ga., to write for the first time with John Eddie, the singer had second thoughts about making the trip. He had a girlfriend at home and they had a fight before he left for Nashville. He was in the process of making that hard choice between her and following his career, and what to do if he couldn't have both of the things he loved.
"I turned around and went home," Brantley says. "I just decided I needed to get my priorities in order."
He rescheduled the writing appointment and when the two did get together, Brantley explained why he postponed the original trip. Before he knew it, the two had written a song about that experience. It is now the singer-songwriter's latest single, "More Than Miles."
"It's a true story," Brantley confesses of the song and accompanying video, which depicts him arriving in Nashville late at night. In the video, Brantley calls his girl but can't talk to her and, after some soul searching, decides to return home. The video ends with him heading south, with the Nashville city-limits sign in his rearview mirror.
"It wasn't anywhere in our minds to be a single," Brantley explains, "but it was one of those songs that walked its way into the single-picking process. It came up in conversation one day and we listened to it again and we were like, 'Let's research a couple of [potential singles].' It came out looking pretty good so we went with it. It had a double meaning for me because it was a song that was pretty close to my heart, so we let it go."
Brantley didn't end up in Wranglers and a cowboy hat singing someone else's music after all, but he's proud to say that he has had songs recorded by other artists. His tunes "Dirt Road Anthem," co-written with Colt Ford, and "My Kinda Party" were hit singles for Jason Aldean.
And although he eventually left his girlfriend in the rearview mirror on his way back to Nashville, Brantley is now happily engaged to fellow country artist Jana Kramer.
Watch Brantley Gilbert's 'More Than Miles' Video